Stainless Steel Cookware Vs Nonstick Cookware: Which is Right for You?
One of the great kitchen debates of all-time is the issue of stainless steel cookware vs nonstick cookware.
While budget nonstick cookware is the go-to for most home cooks, they make up very little of a professional cook's collection. Instead, the pro's favor stainless steel cookware.
Besides stainless steel cookware being relatively more expensive than nonstick cookware, there are a number of reasons why these two types of cookware are chosen by different parties.
Note: This post may contain affiliate links, which means if you buy from my link I might make a small commission. This does not affect the price you pay. See the full affiliate disclosure

 

here.
While chefs usually do steer clear of any sort of nonstick cookware, even they must admit that a nonstick pan is needed for dishes such as crepes and omelets.
On the other hand, it will definitely be a good thing for a home cook to indulge in some stainless steel cookware, in the long run, and also to improve the quality and extent of their cooking skills overall.
The following article will be exploring the qualities of stainless steel and nonstick cookware and also comparing the two to highlight their differences and similarities.
Stainless Steel Cookware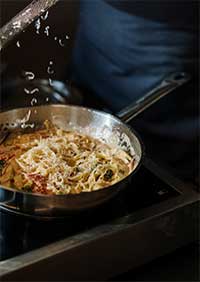 Stainless steel is doubtlessly the favorite for professional chefs. Though stainless steel cookware is made of many metals such as nickel, copper, iron, etc., the uppermost layer is always stainless steel.
This cookware is very and highly durable and can endure very high heat. Stainless steel is ideal when browning, searing, or crisping food. It also allows the cook to deglaze, making way for gravies and soups that are full of flavor.
However, stainless steel pots and pans are not the most beginner-friendly. They require certain cooking skills and need to be maintained. It is definitely a tricker material to cook in.
This leads to the question: is stainless steel cookware nonstick? It can be, but this is something the cook will need to achieve by using the right amount of oil (butter or lard, too) and watching the pot or pan's temperature while preheating.
If food is added to the stainless steel before it has preheated properly, then sticking is inevitable.
Recommended Stainless Steel Cookware Set
Cuisinart MCP-12N
The Cuisinart MCP-12N Multiclad Pro Stainless Steel Cookware Set is a great all-in-one set.
It comes in pieces of 7, 10, and 12, depending on your kitchen's capacity. The pots and pans are oven and dishwasher safe and are also suitable for use on induction cooktops.
These do not leak anything toxic onto the food, and so the flavor of the food is unaltered by the material.
The cool grip handles make them safe to touch when the pot or pan is hot, and the lids on these also fit tightly.
Benefits of Stainless Steel Cookware
Heaviness ensures more even cooking and eliminates hot spots in food.
Cooks food fast.
Great for boiling, stewing, and browning.
The fond left can be used to make gravies.
Highly durable.
Drawbacks of Stainless Steel Cookware
Can be expensive.
The surface is not non-stick and can be difficult to clean up.
Not ideal for gently heating food.
Nonstick Cookware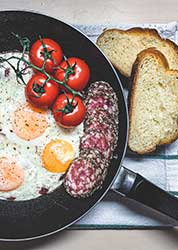 Nonstick cookware has a layer of Teflon or a similar nonstick material, which makes it an appealing option of cookware for most home cooks.
Cleaning them is as easy as wiping them down with a kitchen towel after cooking. They also do not require oil to cook food and can be a great utensil if you are trying to reduce your oil consumption.
Nonstick cookware is also quite resistant to acids from foods. Home cooks love them because they are lightweight, very easy to use and clean, and also very affordable.
That said, nonstick cookware is not do-all. You definitely cannot expect to sear or crisp food in nonstick pots and pans, hence ruling out deglazing as well. They are perfect for cooking delicate dishes such as omelets, crepes, fish, and pancakes.
You also need to be careful not to heat nonstick cookware too much; otherwise, the nonstick layer may release harmful chemicals into the food.
Recommended Nonstick Cookware Set
T-fal E765SC
A great option to look into is the T-fal E765SC Ultimate Hard Anodized Nonstick Cookware Set. This set is available in 12, 13, 14, and 17 pieces.
The nonstick coating is long-lasting (thanks to the hard titanium technology) and does not corrode even when in contact with acidic foods.
This set also comes with thermo spot indicators which let you know when the pan or pot is preheated.
The silicone-coated handles ensure safety, and the glass lids make food visible when covered.
Benefits of Nonstick Cookware
Very affordable.
Widely available in many options.
Easy to clean.
Great for use by beginner cooks.
Do not require oil, so it can be used when reducing oil consumption.
Drawbacks of Nonstick Cookware
Nonstick surface may wear off after regular use.
Only best for cooking delicate dishes such as risotto, omelets, crepes, etc.
Not suitable for searing or browning food.
May release harmful chemicals into food when on high heat.
Stainless Steel or Nonstick Cookware: A Comparison Guide
Now that we know about the individual characteristics of both stainless steel and nonstick cookware let us compare some of their more specific and relevant features.
Material
The material composition of stainless steel may seem obvious, but, in reality, stainless steel cookware has a top layer (or layers) of stainless steel, while the inside is an alloy of metals such as carbon, iron, copper, etc.
Nonstick pots and pans are metallic too, but they have a nonstick layer (usually teflon), which is the cooking surface.
Durability
One of the most attractive traits of stainless steel cookware is how durable they are. Not only are they sturdy, but they also do not have any elements which can wear off or corrode.
On the other hand, the non-stick layer on nonstick cookware is very much prone to wear. If not maintained and cleaned with care, nonstick pans can only stay nonstick for a few years.
Price
A big reason why home cooks opt for nonstick cookware over stainless steel cookware is that the former is much cheaper than the latter.
A stainless steel cookware set can cost you even more than double what a nonstick cookware set will.
This is because stainless steel cookware is much more durable and multi-functional, while non-stick utensils are only meant for cooking a select few delicate items.
Design
There is very little difference in design between nonstick and stainless steel cookware. They usually are shaped similarly and have heat-proof handles.
However, nonstick pots and pans do feature glass lids, which are great for monitoring cooking progress, while stainless steel cookware has opaque stainless steel lids.
Oven and Dishwasher Safety
Unless stated otherwise by the manufacturer, almost all nonstick and stainless steel cookware is safe to use in the oven or clean in the dishwasher.
So, if you are looking to buy an oven or dishwasher safe cookware, you can go for either material. 
Conclusion
Though it may seem that nonstick cookware is inferior to stainless steel cookware, most chefs will admit that there are dishes that are best cooked on a nonstick surface.
When it comes down to stainless steel cookware vs nonstick cookware, you need to evaluate your personal cooking needs before buying one of the two.
If you want something that is affordable and easy to maintain, go for nonstick. If you are a more experienced cook who likes to try complicated recipes, one or two stainless steel utensils will definitely come in handy. The ideal kitchen will feature pots and pans of both materials.