Calphalon vs Circulon Cookware – What Are Differences of Them?
Confused between Calphalon and Circulon? If you are having a hard time deciding between them, then this article might help you.
Now, we know that as someone who likes to cook, you'd like to get your cookware right. And among all the cookware brands, these two names come out on top.
So, in this Calphalon vs Circulon guide, I'll compare both of them feature by feature so that you can easily choose between them.
Note: This post may contain affiliate links, which means if you buy from my link I might make a small commission. This does not affect the price you pay. See the full affiliate disclosure

 

here.
So, without further ado, let's get the show on the road.
Circulon VS Calphalon (Cookware)
Circulon Cookware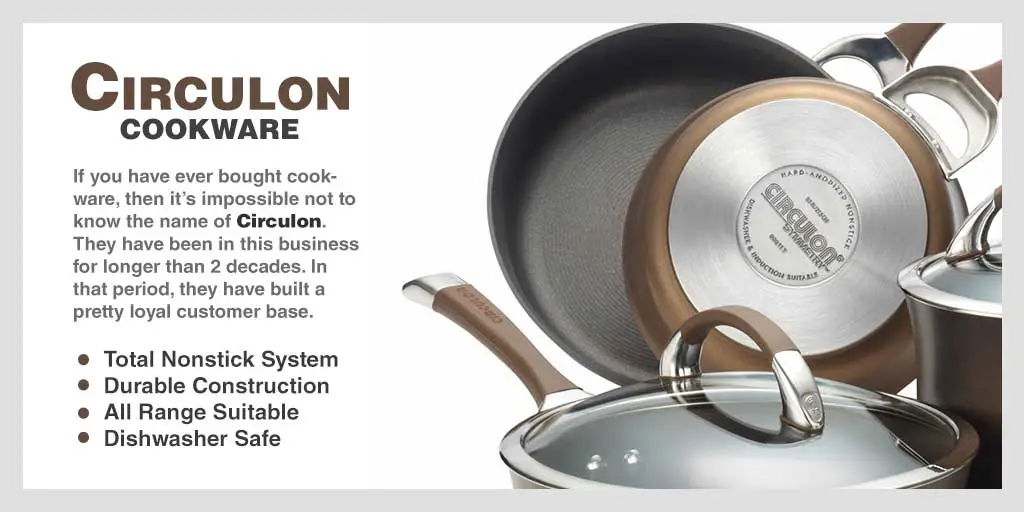 If you have ever bought cookware, then it's impossible not to know the name of Circulon. They have been in this business for longer than 2 decades. In that period, they have built a pretty loyal customer base.
They first made their name by introducing hard-anodized aluminum cookware (nonstick) to the market. What helped them stand out among the competitions is the fact that before them, nobody had ever tried to make nonstick aluminum cookware. By doing that, Circulon revolutionized the cookware industry.
Now, it also helped them to take over the market. Aluminum is a great cookware material since it ensures even heat distribution. And when the makers made the aluminum cookware nonsticky, they immediately moved ahead of their competitors in the market.
Regarding the durability of the nonstick property in the pots and pans, you can remain assured that they are gonna last long. You'll be glad to know that the makers use three-layer nonstick coatings on them to make sure the nonstick properties don't erode away easily.
Moreover, they are the first company to make their cookware dishwasher safe. That way, it reduces your cleaning time and makes the process easier.
Some might ask why their products are dome-shaped? Well, that's because it helps to retain the moisture when you are steaming the food.
Calphalon Cookware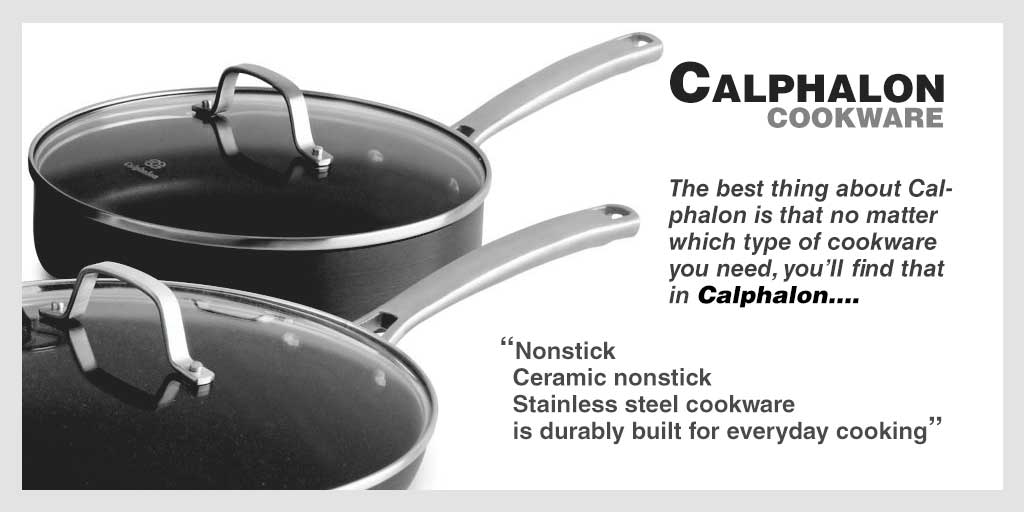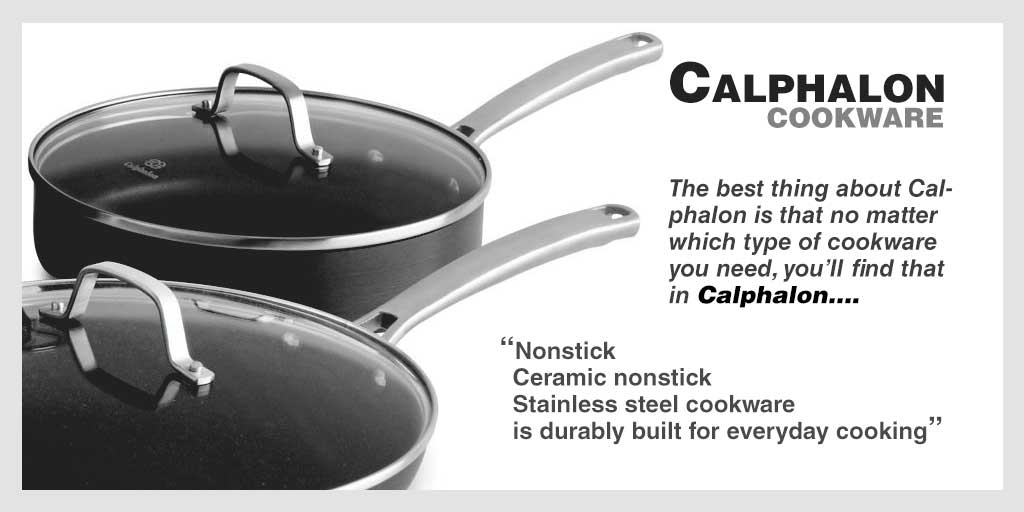 The best thing about Calphalon is that no matter which type of cookware you need, you'll find that in Calphalon.
They make all types of cookware for all types of people. Irrespective of whether you are a professional chef in a renowned hotel or just a home cook, you'll find their cookware suitable for your task.
Their cookware material options include:
Enamel cast iron
Nonstick
Copper
Infused anodized aluminum
Stainless steel
Among all their items, I particularly like their anodized aluminum pans. Let me tell you the reason.
I like things fast, and don't have much time to spare for making breakfast in the morning. So, I need something that will help me to reduce the time for cooking. And their pan does just that. It helps you cook really fast.
Another thing that you need to keep in mind while working with their cookware is that they don't need as much heat as cookware from other brands does. So, keep the heat a bit low when you are cooking.
All their products look good and are designed in a way that allows you to handle them easily. So, you won't feel uneasy while cooking with them.
You will have noticed that their stainless steel cookware is made with three-ply to offer great heat conductivity. That's something you will find very useful while cooking.
A Feature by Feature Comparison
Here, we'll compare both the brands in detail.
Material
If you wanna go with something nonstick, then I will suggest that you choose Circulon. Because all their products are made with nonstick aluminum and they are really good at it.
However, if you are looking for something different than nonstick, then it would be better to choose Calphalon. That's because they offer you a wide range of options when it comes to cookware materials. You can choose one among them according to your preferences.
Oven-safe
Both brands offer items that can be safely used in the oven. However, the difference lies in the temperature.
While you can cook with Circulon cookware at only 350 F, the cookware from Calphalon can be used at as high as 500 F. So, if you are likely to use your cookware in 500 F, then it wouldn't be a good idea to buy Circulon cookware.
Price
There's not a lot of differences when it comes to the pricing of the cookware.
If you want to buy a complete set of cookware (10-piece) from either of the brands, then you'll have to fork out something between 200-600$.
However, I may add that they are usually worth the money. Cookware from both the brands offer great value for money and buying them won't make you regret the decision in the future.
Design
Both brands offer ergonomic designs for their cookware so that they can be used comfortably. So, you don't need to waste your worries on the design aspect for either of the brands.
Durability
Circulon and Calphalon both use high-quality materials to make their product long-lasting. So, there's no need to worry about the handle or the nonstick properties coming off.
The Things That are Similar between Them
Here are the things that I found similar in them:
Able to be used in Dishwasher
As I have mentioned earlier that you can clean cookware from both brands by using a dishwasher.
That cuts down cleaning time which is a really good thing.
Offer Transparent Glass Lid
You can get transparent glass lids from both brands to keep an eye on the cooking process.
Top 3 Circulon Cookware Reviews
It's time to dive in fully on the cookware that has caught our eyes. By the end of this section, we hope you find your product.
1. Circulon Acclaim Nonstick Cookware Pots & Pans (15-Pieces)
Once you get yourself this set, you literally do not have to worry about anything else. You see, the deal is a complete package. It provides you with 15 cookware, which includes frypans, stockpots, saucepans, and the list goes on.
Furthermore, each of the items is made of the finest material. If you take a look, the aluminum gives it two perks. The first one would be instant heating of the metal, which permits you to cook anything with ease and the heat is distributed evenly throughout the structure.
Also, the aluminum makes it resistant to scratches, scorches, etc.
Besides, because of the lightweight feature of the product, you can easily control the cooking utensils. Plus, the comfortable handles offer optimum convenience and you should be able to use them when it's extremely hot without hurting yourself.
Pros
A vast number of options (15 pieces)
Because of its lightweight attribute, you can maneuver it with ease
Comes with a highly durable and long-lasting coating
After usage, you can store the utensils easily
Cons
The overall price of the package is quite high
2. Circulon Elementum Hard-Anodized Nonstick Cookware Pot & Pan (10-pieces)
It is not easy to find an enduring and long-lived set of cookware in the market. Nevertheless, Circulon has the perfect solution for you. The Elementum set from the company is probably one of the most reliable cooking utensil packages that the company has to offer. Allow us to explain why!
The hard-anodized construction of the item grants it unyielding tolerance and resistance towards any damage. Also, the aluminum used in its construction offers it excellent heating capacity and ensures that the utensil gets warmed up evenly. Therefore, we can assure you the best experience from this set.
Not only that, thanks to its excellent build, cleaning the item is a very effortless task. All you need to do is use a sponge, cleaning liquid, and water. And in 15 minutes, all your cookware should clean. After this, you can effortlessly stash the unit anywhere in your home.
Pros
A good number of cooking alternatives
All the necessary things provided on the day of purchase
Due to the anodized build, the unit is very durable
Has a stylish, clean, and attractive outlook
Cons
3. Circulon Symmetry Hard-Anodized Aluminum Nonstick Cookware Set (10-pieces)
Few can match the elegance and beauty of this deal from Circulon. You see, the product has a very unique and interesting color scheme (chocolate color). Hence, we can assure you that its lucrative appearance shall make your kitchen look even more gorgeous. Anyways, the item is not only aesthetic, keep reading!
It has a reliable build. Made from aluminum (hard-anodized surface), the thing has high endurance. Also, the metal makes sure that the unit serves you for a long time. 
Apart from that, each of the kitchenware is compact and easy to move. Hence, granting you the best experience. And you get to enjoy all these exceptional attributes from all 10 pieces of cookware that the package is providing. In short, it is the ultimate cookware deal that Circulon has to offer.
Pros
The aluminum and anodized build ensures superior longevity and performance 
Cleaning the cookware is an effortless job thanks to its non-stick feature
Compact dimensions allow easy storage
The price of the unit is moderate
Cons
The utensils are not resistant to scrapes and scratches
Top 3 Calphalon Cookware Reviews
Be prepared to cook yummy meals soon as you will find yourself almost wanting to buy a new cookware set once you're through the reviews. Let's get started.
1. Calphalon Simply Pots and Pans (10-Pieces)
Well, the Calphalon has a very simple motto- 'to provide their users with durable and reliable products that will grant them the most promising performance.' And, of all their releases, this is arguably the best in the business.
First of all, the deal offers you a wide array of cookware. With this, you can do several forms of cooking. Aside from that, there are tons of other attributes that this unit has to offer. One of them is its astounding longevity and sturdiness. The hard-anodized aluminum build gives it unparalleled endurance and a long life.
If that is not all, the construction of the product provides it with excellent cooking capabilities. You see, aluminum is highly conductive. Thus, we assure you that the model will offer you amazing performance consistently.
Pros
The package provides you with 10 different kinds of cooking utensils.
Contains a durable and robust construction
You can clean all the products very easily and without any issue
Has a high heat tolerance of 400 degrees Fahrenheit 
Resists rust and other damages
Cons
The cookwares are not nonstick
2. Calphalon Classic Pots & Pans Nonstick Cooking Set
Few kitchenware sets can match this one. Do you want to know why? Well, right off the bat, the product's superb build gives it a big head start. It is made from a highly durable and innovative material, which gives the set immunity from rust, scratches, and more.
Also, it comes with a no-boil over attribute, which prevents any oil from getting spilled. Further, it has a build that permits you to use the thing for almost all sorts of stoves, including halogen stoves, conventional gas stoves, induction stoves, etc. Hence, it does not matter what type of stove you use when you have this set.
In addition to all these, the unit is very easy to clean. So, you should have a blast while washing the set. Moreover, once you are done with your job, you can conveniently stash the products in your kitchen.
Pros
Thanks to the non-stick feature, the food will not get stuck to the utensils
You can clean the unit in a couple of minutes
Features a strong and enduring construction
The aluminum build gives it endurance from extreme temperature
Cons
The price of the entire set is high
3. Calphalon Premier Stainless-Steel Pots and Pans
Sometimes, you have to pay more if you want to enjoy the perks of having the best of the best. That's why we can confidently tell you that this product is worth every penny. It features a stainless steel build that grants unmatched durability and immunity from rust and other earthly damages.
Besides that, the stainless steel formation provides the units another advantage. You see, as an excellent conductor of heat, stainless steel makes sure that the temperature is distributed evenly throughout the entire structure. Hence, cooking with these bad boys is a different experience.
On top of that, the package is very versatile. By that we mean you can use them for all kinds of purposes and on all kinds of stoves. Yes, you heard that right. Each of the items within this package is compatible with gas stoves (LPG as well as halogen), induction stoves, etc.
Pros 
Due to the non-stick attribute, you can easily cook without a worry
The stainless steel structure makes the cookware strong
You can store the items anywhere as they're not big
Lucrative outlook
Cons
How to Choose the Best One?
Well, it is no rocket science! You can get yourself a pair of A-grade products if you check a couple of things.
Here is a list of all the factors that you should consider if you want the best of the best.
Variety
Well, on average, the price of such a unit is quite high. And you would need to pay a handsome sum if you are looking for the finest in the market. So, the first thing that you need to ensure is the number of cooking utensils you want in your package. In this case, we suggest, the more the merrier. 
Formation
If you want to nail the best for your kitchen, then checking the build material is a must. The construction will determine numerous things like durability, sturdiness, heat tolerance, as well as conductance. In short, it is a very crucial feature that you need to check if you want the most promising set. 
We suggest that you either opt for the ones with the hard-anodized build or stainless-steel construction. 
Convenience
During a cooking session, these items can reach scorching levels. At such times, it is practically impossible to touch these utensils (let alone grab them). Therefore, the unit should have insulating and comfortable material used in the handles. 
Also, it should have a compact dimension that renders effortless storage but should be big enough for you to cook a good amount of food at once. Therefore, we recommend that you pick a product that fits your desire. 
Price
Cookware sets are not inexpensive. However, if you are smart about it, then you should be able to get the best item at the best prices. Now, in order to do that you need to have a budget and then stick strictly to it. 
Oven Safe or Not
There are times when you would need to warm up a dish using an oven. Now, transferring them to a container and then heating is very inconvenient. Therefore, we suggest that you opt for a product that is oven-safe.
Conclusion
I hope this Calphalon vs Circulon guide has been of some help to you. And now that you know the similarities and the differences between both the brands, you can easily make a pick among them.