How To Clean Pots And Pans In The Dishwasher – 5 Simple Steps
We have many different machines that make our lives easier than they were before. One of the many devices and machines created to make life better in the dishwasher. It really is one of the best inventions of science.
We usually use dishwashers to clean the dinnerware, serveware, and cutleries. We don't really use them for our pots and pans. But in fact, it can be used to clean the dirty pots.
If you don't know  how to clean pots and pans in the dishwasher, then you have come to the right place because we will give you all the information and help you along the way.
Note: This post may contain affiliate links, which means if you buy from my link I might make a small commission. This does not affect the price you pay. See the full affiliate disclosure

 

here.
Now, let's get to it!
Steps to Follow to Clean Pots and Pans in The Dishwasher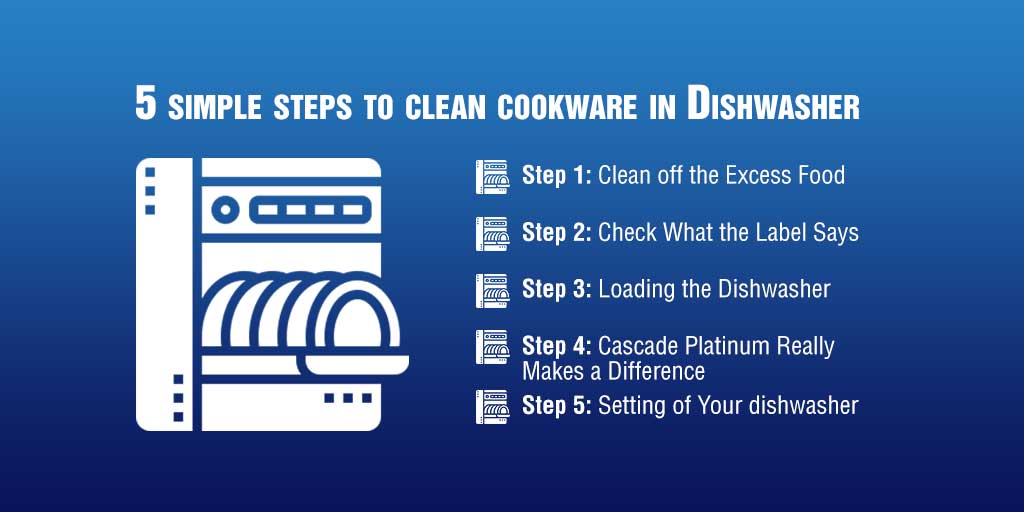 Here we are going to give you a step-by-step guideline on what needs to be done so that your dishwasher safe pots and pans can be cleaned perfectly in the dishwasher. Following this will help you cut down your cleaning time and would ensure good results every time.
Step 1: Clean off the Excess Food
The very first thing you want to do when you are about to put your dishes or the pots and pans in the dishwasher is to make sure you have cleared off all the excess food material on them. You do not want those to be stuck to these items when you put them in the dishwasher.
And the machine will have a tougher time cleaning the surface. There would be many situations where the pots and pans might come out unclean. Then you would have to run it again. And that would be a waste of water as well as electricity.
You don't really have to rinse it with water or soap, just take a wooden spatula and scrape off all the excess food that is stuck to the pan. Sometimes you might have to go over the same area a few times before you get all of it off.
Step 2: Check What the Label Says
Most pots, pans, and dishes these days are made to work well with dishwashers. But there are some materials and finishes that do not go well with it.
There may be times you put a pot or a pan inside for a clean, but when you go back to retrieve it, things might not be the same. It may break, be bent at an awkward angle, or discolored.
All of this can be avoided if you check what the label at the bottom of the pan says. And it should most defiantly have something attached to the bottom. Don't make these silly mistakes.
Also, if you do not find a label, you should take a look at the packaging it came in. If that doesn't work either, then you can always use google. That usually has the answer to all the questions, should have one for this as well. Just keep in mind aluminum is not dishwasher-safe.
Step 3: Loading the Dishwasher
For this step, you will have to take a look at what the manual of the dishwasher has to say. Not all these machines work the same way.
They all have different mechanisms and work differently due to that. So, before putting the pots and pans in, just take a look at what the manual has to say.
Some of the dishwashers require the pots and pans to be located at an exact spot like the bottom rack. The cleaning done in that rack might be more appropriate for the pans.
Most dishwasher manuals instruct the pots and pans to be faced mess side down. This way, the jets of the device can very easily reach all the food and clear it out.
Step 4: Cascade Platinum Really Makes a Difference
Now, this is something that not many people know of or use, but cascade platinum can make a world of difference in the way your dishes, pots, and pans will be cleaned in the dishwasher. And you will be pleasantly surprised by the outcome you see once they are out.
All you have to do is place a platinum ActionPac into the dishwasher. Make sure your hands are dry when you are handling it, as it is activated by water. Also, the item must be carefully placed inside the area where you would normally put in the dishwasher's dry detergent.
This is a small step to add in your dishwasher routine, but you will be happy to add this for better results.
Step 5: Setting of Your dishwasher
Well, if you have used a dishwasher before, then you know they are not the easiest machine to operate. All the buttons might seem very confusing, and pressing the wrong one may lead to unwanted results. Both of which you would want to avoid.
So, try to take a look at the manual so that you understand what you are required to do if you want to clean your dishes or pots and pans. Try selecting the longest cycle for these pots because they tend to be harder to clean than it is when it comes to regular dishes.
Final Words
We now have some knowledge of what needs to be done if you want to clean pots and pans in the dishwasher. Feel free to ask questions if you need further help!