8 Best Pasta Pot with Strainer in 2022 (Buying Guide)
People are different from each other in countless ways, but most have one thing in common — they love pasta. Though it sounds like an easy dish to make, it can prove to be a challenging task.
Its nothing less than a victory if you can emerge from your kitchen with a beautiful pasta, cooked the right amount, and not burning your hand in the process.
This article aims to provide you with the solution to this problem so that you can buy the best pasta pot with strainer for your next delicious pasta dish.
Note: This post may contain affiliate links, which means if you buy from my link I might make a small commission. This does not affect the price you pay. See the full affiliate disclosure

 

here.
With an accompanying pasta strainer, it is now easy to separate the pasta from the boiled water without ending up with a bad, painful blister in your hand.
If you want to turn your pasta dishes into art that blow the minds of your family and are looking for the right tools, then you are in the right place.
The Best Pasta Pot with Strainer
Below is a list of pasta pots with strainers and their reviews so you can weigh your options and buy the best one that suits your needs.
1. Calphalon Pasta Pot with Strainer Lid – Best Choice
This is a modern-day, 3 in one calphalon stainless steel pasta pot set that is perfect for cooking not only pasta but also other dishes like soup, stock, or broth.
The large-sized stockpot can hold up to 8 quarts of food and comes with a strainer and a steamer that can potentially speed up your food preparation whenever you have company.
Built with a double layer of stainless steel and an aluminum core between them, the pot with enhanced durability, also proves to be an excellent conductor of heat, making sure that all heat is evenly distributed.
With an outer surface of brushed stainless steel, the product is resistant to rust and corrosion. The colander is long enough to reach the bottom of the pot where you can safely boil your pasta, and by just lifting the strainer, you can save your fingers from burning.
An additional steamer that comes with the pot can be used to steam your vegetables, fish, shrimp, or even dumplings at the same time when you boil a broth or soup in the large stockpot.
Monitor the progress of your cooking pasta through the clear, tempered glass lid. That way, you won't have to encounter the hot steam whenever you lift the lid.
Last but not least, all components of this product are ovenproof and safe for the dishwasher, ensuring heavy-duty usage.
Has a strong and durable structure
Aluminum core for quick and even distribution of heat
Strainer and a steamer that makes the product versatile
Comes with a lid made of clear tempered glass
Can be put safely in the oven and the dishwasher
Takes some time for the water to boil
2. Gotham Steel Pasta Pot with Strainer, 5-Quart – Budget Pick
The Gotham Steel pasta pot is one of the best deals out there that you can get on a budget.
Structured with steel and an inside coating of a superior mixture of titanium and ceramic makes the pot non-sticky for any kind of food. It also has a present-day look that will go nicely with the aesthetic of your kitchen.
The pot is capable of cooking food as large as 5 quarts in amount. This is a good quantity if you consider the price. Think about all the hassle you can avoid with this multi-task pot when you're entertaining.
One of the main attractions of this one of a kind pot is its handle. It can be twisted and locked, which will lead to the use of the other feature, the built-in strainer. 
When you twist the handle, it slides over the lid to keep it closed so that you can easily turn over your pot and strain pasta, potatoes, peas, or anything you want.
The size of the food is not an issue with this as it provides you with two strainers having holes of 2 sizes. Strain the smaller grains with the smaller holes, and there won't be any spilling.
Moreover, the handle remains at room temperature even when the pot is hot. This definitely makes things easier.
The tempered glass lid allows you to monitor the food while it's cooking while keeping all the heat in. Whatever you make, this pot has got you covered.
Twist and lock handles
Built-in strainer with two strainer options
Handle stay cool while on the stove
Strainer lid made of tempered glass
Can hold 5 quarts of food
Non-sticky inside with a coating of a mixture of titanium and ceramic
Safe for use in the oven and the dishwasher
Low price
3. All Clad 7 QT Pasta Pentola, Tri-Ply Bonded Dishwasher Safe – Premium Pick
This stainless steel pasta pot from All-Clad is one of the best high-end options that are available in the market. The sleek and shiny, silver cookware will quickly become essential for your kitchen.
Made with stainless steel with an aluminum core sandwiched, the stock pot is durable, able to withstand high temperatures in the oven or broiler, and cooks food evenly throughout.
High-grade polish and starburst finishing on the inside ensure that the food doesn't stick to it. The 3-ply bonded construction prevents any metal from reacting with any foodstuff, so anything cooked in it is safe to eat.
This 7-quart pasta pot with its strainer insert brings you the ultimate cooking solution so you can master even complicated dishes at home. Make soup, stocks, dumplings, pasta, and more without hassle. The unit is also great for steaming a variety of food. 
Strain the pasta or your vegetables without feeling the heat by just lifting the insert by its stainless steel handle that has been fixed with rivets.
Made in the USA, All-Clad made it keeping your convenience in mind. Put it in the dishwasher when you are done without any worries. Whether you use a stove or induction top, this premium stainless steel pasta pot will not let you down.
Premium quality build for durability and even distribution of heat
Stainless steel colander insert that makes straining an easy task
Has stainless steel handles
Comes with a stainless steel lid
Starburst finish on the inside ensure the stock pot is non-sticky
Oven and dishwasher safe
Suitable for any cooktop
Can be slightly heavy
Lid is not transparent
4. Cuisinart Pasta Pot with Strainer, 77-412 Chef's Classic Stainless Steel
The 4 piece set from Cuisinart brings relief to any cook without fail. This set consists of a large 12-quart pasta pot with a colander insert, an additional steamer, and a lid all made of stainless steel. Thus, the unit can easily cook, boil, or steam a range of food for the whole family with ease.
The pot features an aluminum core, which helps it to conduct heat evenly throughout the pot. Colander insert can cook pasta, boil vegetables or meat, and more. You can complete the straining process by lifting the colander.
Pour over the fluid without spilling any of it as this pot features a tapered rim to ensure that every pouring is done free of drips.
Using the steamer is also easy and can be used with the colander at the same time. This makes you more efficient as you can spend less time cooking pasta and more time doing other work.
The handles are shaped and riveted with stainless steel to remain cool. With this set, you can forget the mitts. Moreover, the handles of the steamer basket can be moved down and out of the way when on the stove. This enables you to cover the pot with the lid.
A tight-fitting lid that locks in the flavors and prevents heat from escaping is what every cook wants, and this is what you get with this set.
The product, made in the USA, is safe for your dishwasher. So when you are done with this, put it in the dishwasher for easy cleaning.
Sturdy construction with high-quality stainless steel
Aluminum in the base quickens heating and its equal spread
Stainless steel remains reactive to food
Handles are heat resistant
Lid efficiently locks in flavors
Tapered rim that allows quick and smooth pouring
A bit heavy — 11 pounds
May get rusty
5. Viking Pasta Pot with Steamer, 3-Ply
This Viking product is nothing less than a warrior when it comes to cooking.
Featuring a 3-Ply construction and a core of aluminum alloy makes this unit heat up quickly and evenly. This efficiently reduces your cooking time and frees you for other chores.
The stock pot has markings for measurements of ingredients in 2 conventional units and can be filled up to 8 quarts. You can directly fill the pot and avoid any measurement mistakes that effectively ruin any dish with ease.
To further reduce your cooking time, this 4 piece set allows you to use all the components at the same time. The steamer basket sits on top of the strainer insert, and the lid closes to make all the components into one unit. So steam those pot stickers while you make the broth.
It is also given a heat resistant handle, shaped in a user-friendly manner so that you don't experience any discomfort while lifting the strainer or pouring water from the pot.
The stainless steel pot is safe for dishwashers, so cleaning this huge pot is not worrisome. Just place it in your dishwasher at the end of the day.
3-ply construction for quick and even heating
Modern design
Comes with a pasta insert and a steamer basket
User friendly handles for comfort when pouring
All components can be used at the same time
Can be used to cook a variety of dishes
Comes with measurement markings in two units
6. Cooks Standard Pasta Pot, Classic 4-Piece 12 Quart
This product is a classic cookware that you can rely upon with your eyes closed. The package consists of a 12-quart pasta pot, a strainer insert, a steamer basket, and a lid. All the components are made of stainless steel for enhanced durability. 
Furthermore, this 12-quart pot has an aluminum core included in the base, which helps in quick and equal heating. This will cook a large amount of food in a shorter time. 
The stockpot can be used to cook stocks, soup, and other dishes, including pasta. Strainer insert can hold pasta, vegetables, meat, fish for your stock, or stew.
Separate the contents from the water by lifting the insert by its riveted stainless steel handles that are designed to accommodate your hand and stay cool. 
Although the steamer cannot be used at the same time as the strainer, the basket is deeper than other options and holds a larger amount of food items.
The lid is of the perfect size for the pot; thus, it does not let any moisture and flavor to escape. You can cook your favorite pasta dish to perfection.
Bake your food in the oven as this one is oven friendly. It can withstand up to 500 degrees Fahrenheit in the oven with ease. When you are done, you can easily clean the pot on the dishwasher if you have one.
Moreover, you get all these features at a low price. What more could you want?
Durable construction
Aluminum base for quick and even heating
Large capacity of 12 quart
Ergonomic handles riveted with stainless steel that helps to balance the pot while pouring and stays cool
Lid keeps the moisture in
Oven and dishwasher friendly
Good value for money
The pasta strainer and the steamer cannot be used at the same time
7. Bialetti Pasta Pot with Strainer Lid, 07265 Oval 5.5 Quart
Light up your kitchen with the Bialetti 5.5 quart pasta pot of the color of your choice from the various color options.
While other pots and pans are made of stainless steel with aluminum in the base, this one contains aluminum only for quicker heating that spreads evenly to the whole pot.
With a lid that has a strainer built-in, filtering out the water from your boiled pasta, vegetables, or even rice has never been easier.
The lid remains in place with the twist and lock handles, and prevent and foodstuff falling from the pot while straining. Its heat resistant handles definitely make the task more comfortable. 
This pot defies the usual shape of pots and pans and comes in an oval shape. Now, you won't have to break your noodles to accommodate them in the pasta cooker.
To make your dish tastier, this pot comes with a stick-resistant interior and is free from PFOA. This ensures a good release.
Though this one is not suitable for induction cooking tops or the oven, it can be used with a variety of stoves and permits the use of any utensils other than metal.
Made of aluminum for quick and even heating
Built-in strainer in the lid
Twist and lock handles
Non-stick interior
Free from PFOA
Dishwasher safe
8. Cook N Home Pasta Pot, Stainless Steel 4-Piece 8 Quart
Last but not the least, this pasta cooker is stylish for modern-day kitchen as well as reliable to cook your pasta to perfection.
Constructed with polished stainless steel and an added layer of aluminum on the lower portion makes the pot a good conductor of heat, reducing the chances of a mishap of food burned on one side and uncooked on the other.
The 8-quart stainless steel pasta pot comes with a deep colander insert, which you can use for vegetables or other proteins in addition to pasta. A steamer basket that accompanies the pot makes the product versatile. 
This unit has a glass lid that has a vent to let off steam so you can monitor your food while it cooks. Feel free to use whatever cooking top you have, as it is suitable for various stoves, induction, and also the oven.
Clean all the grease away effortlessly in the dishwasher at the end of the day and have the pot as good as new.
Strong and durable construction
Aluminum base for quick and even heating
Riveted handles that adds to the durability
Tempered glass made lid with steam vent for easy monitoring of food
Deep strainer and steamer inserts that make the pot versatile
Oven and dishwasher friendly
Lid is not suitable for high temperatures and is prone to breakage
Things to Consider Before Buying a Pasta Pot
Considering a few factors before you buy any product makes the difference between satisfaction and dissatisfaction with the product. The same goes for pasta pots. Here are a few points to keep in mind.
Capacity
Consider what size you need for your home. A large capacity pasta pot comes in handy when you have company often, or you cook for a large family.
However, you don't need such a large pot if you cook for a small family, or you don't intend to use it for a professional purpose. Use a smaller pot if you cook a small portion. This will save time and energy.
Construction
it is important to look at the construction of the product. What is it made of? This is important not only for durability but also for the taste of the food.
At a high temperature, the food may pick up a metallic taste, which can potentially ruin your evening. The food may also get burned if the pot does not have a non-stick interior.
At any rate, it is necessary that your kitchenware be durable as well as remain non-reactive to food substances.
Compatibility
Some pots are compatible with a variety of cooktops, and some have limitations. Look for a pot that is compatible with the cooktop that you use.
Along with cooktops, it is also important to know if the pot you want to buy is oven and dishwasher safe. If not, then you may get stuck cleaning the pots manually while your family enjoys some quality time together.
Oven safety gives you the opportunity to try new dishes and enhance your cooking skills. If you're someone who enjoys cooking new dishes, you want your pot to be safe for your oven.
How to Use a Pasta Pot?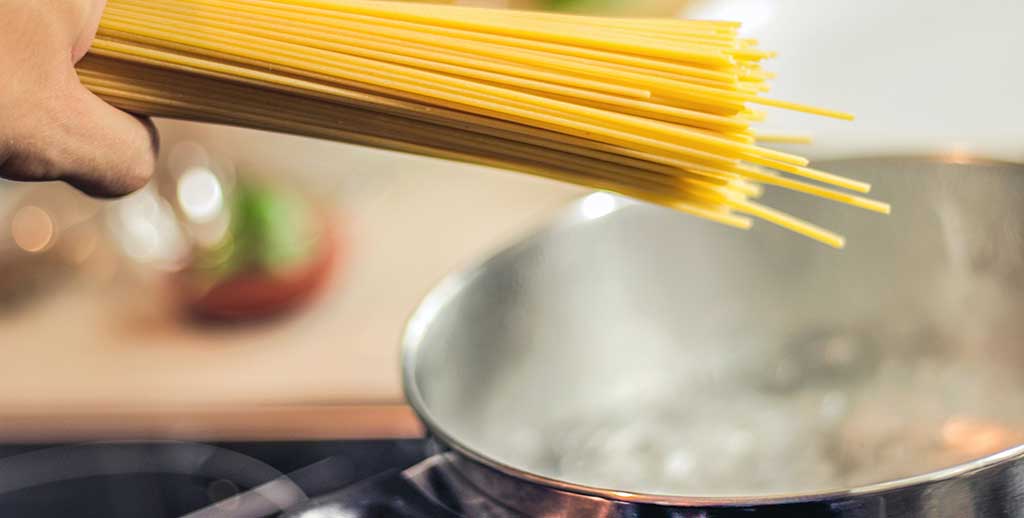 Cooking pasta is more stressful than it looks. However, it's easy if you can use the pot correctly. Here are a few steps for you to follow.
Step 01: Fill Up the Pot
Consider what you will be cooking. Spaghetti will require water 2 to 3 times the amount of spaghetti. Pasta will require less. Fill your pot with the required amount of water.
Step 02: Put the Insert
Place the pot on the stove or induction cooktop and turn the heat on. Allow the water to boil. When you have reached that point, insert the strainer pot containing the pasta into the pot.
Cover the pot with the lid. You can also use the steamer at this point if you have that option.
Step 03: Straining
When the pasta is done — using oven mitts or a cloth, lift the strainer pot by the handles. This allows you to only take the pasta out, leaving the water behind.
Step 04: Clean the Pot
When the water in the pot has cooled down, pour the water out and clean the pot either in the dishwasher or by hand, whichever is suitable.
Final Words
Whether you are a cooking enthusiast or a professional, a pasta pot always comes in handy with its versatility, and not to mention the pasta dishes you and your family can enjoy without much hassle.
So, get the best pasta pot with strainer and create your next signature dish with it.