5 Best Food Steamer BPA Free in 2022 (Buying Guide)
There are many reasons to love food steamers. They provide a quick and easy alternative to cooking, frying, or baking your food.
Now, that often involves using oil or butter, which can leech your food of their nutrients. Steaming your ingredients, however, allows the nutrients to stay inside the food!
Unfortunately, a lot of food steamers are made from plastic, which carries BPA, a chemical that, when/if it seeps into the ingredients, can cause various illnesses—especially in children and infants!
Note: This post may contain affiliate links, which means if you buy from my link I might make a small commission. This does not affect the price you pay. See the full affiliate disclosure

 

here.
But do not despair, because today we're going to be talking about the best food steamer BPA free. Presently, increasing numbers of manufacturers are opting to produce BPA-free steamers, and we've rounded up 5 of the best ones.
Let's get started!
The Best Food Steamer BPA Free
So now that you know what the best BPA-free food steamers look like, it's time to jump straight into the reviews. We've spent considerable time analyzing these products, so rest assured that you're in good hands!
1. Best Choice: A/C Food Steamer
Highlighted Features
Capacity: 9.5 quarts
Accepts: vegetables, fish, meat, rice
Withstands up to 284°F temperature
Stainless steel base
The first product we've chosen for you is a 9.5-quart steamer from Aicok. At its price, this steamer's large size, functionality features, and ease of use make it a premier choice for those looking for affordable BPA-free steamers.
Let's start with its performance. Operating at 800 watts, this steamer cooks your food evenly and quickly. You can easily cook multiple combinations with proteins like meat, fish or eggs, rice, or even baby food.
That's thanks to its design, which allows you to make use of up to 3 baskets together. The baskets themselves are, of course, built from BPA-free materials, and are able to withstand up to 284°F of heat. Furthermore, the baskets are easily stackable without sacrificing precious shelf space.
This steamer offers much in the way of functionality. You can enable the use of the user-friendly timer; furthermore, this machine is also capable of turning itself on once it has completed its task of cooking your healthy food.
You'll also appreciate the dual water inlets on either side of the steamer, along with the water level indicator, which allows you to check the cooking progress at any time. Overall, a reliable electric steamer at a great price!
The 3 steamer baskets are stackable for convenient storage
Includes a water level indicator for easier monitoring
Offers even cooking and fast heating with 800w steam design
Equipped with timer and auto-shutoff
Easy to clean – just put in warm soapy water
Only the first steam basket can be fitted onto the base
2. Best Budget: Sistema Microwave Collection Steamer
Highlighted Features
Accepts: Vegetables, fish and poultry
Capacity: 2.4 liters (2-4 serving size)
Cooks microwave meals in minutes
This highly rated and super affordable microwave steamer from Sistema is next on our list. It's the ideal choice for those who are looking for quick-and-easy steamer options or don't like spending too much time on cooking. Furthermore, because it's part of a collection, there's a lot to explore from this line.
There's a lot to love about this line from Sistema. Available in a bold and distinguished red color, each of these steaming containers are made from pure virgin plastic. Each one comes with a vented lid, which allows your food to retain its flavor and texture.
Many people shy away from microwave steamers because they may not seem as efficient as other types. However, with this set, you can easily cook fish, vegetables, and poultry. And once you're done cooking, removing the containers is as easy as 1-2-3, thanks to the integrated easy-lift tabs.
Plus, thanks to their beautiful design, you can use these containers to serve the food as well. Store leftovers in the freezer, and put it on the top rack of the dishwasher when cleaning time comes!
So is this the best microwave steamer? Well, if you ask us, it definitely comes close!
Made from 100% virgin plastic with no BPA
Available in small, medium and large sizes
Safe for use in freezer and dishwasher
Steamer basket's middle stalk stays cool for easy lifting
Easy-lift tabs are perpetually cool to the touch
Not suitable for cooking rice
Not ideal for larger serving sizes
3. Best Glass Steamer: Cuisinart STM-1000 Digital Glass Steamer
Highlighted Features
Capacity: 5 liters
Accepts vegetables, seafood, poultry, meat
Glass steamer pot
Stainless steel base
Who hasn't heard of Cuisinart? It's a brand that has cemented its place in the world of kitchen appliances, and for a good reason; this glass steamer is a prime example of the brand's superiority. Let's find out why we think so.
With a traditional yet sleek design, this is a steamer that comes with a durable stainless steel base. The sturdy glass steamer basket has a capacity of 5 liters, which makes this the perfect steamer to use when cooking for large groups/families.
And when it comes to the actual cooking, you'll be amazed by the array of convenience and functionality features that this thing offers. Make use of one of the following settings: poultry, seafood, grains, vegetable. Otherwise, select the manual option to cook with your own settings.
One thing we absolutely love about this steamer is its control panel, which makes the cooking process so much easier. Use the buttons to pause, start, stop, reheat, and set the timer, the latter of which can be observed on the LCD screen.
When it comes to finding the perfect BPA free food steamer electric, we doubt you'll ever need to look further than Cuisinart. However, it's worth mentioning that this is a pretty expensive model, so choose accordingly!
Steamer pot has a 5 liter capacity to enable cooking for large groups
Equipped with a 60-minute countdown timer
The LCD control panel comes with easily accessible buttons
Stainless steel steaming tray can be flipped to hold different food types
4. Best Electric Vegetable Steamer: Maxi-Matic Elite Platinum EST-2301 Electric Food Steamer
Highlighted Features
Capacity: 8.5 quarts
Operates at 650 watts
Stainless steel base
Our next pick is a nifty electric steamer from Maxi-Matic. Not only does it offer all the most important features we've come to expect great food steamers, but it's also available at a great price.
Just like the Aicok steamer that we reviewed at the start, this one also comes with 3 layers. Two of the baskets have a capacity of 3.5 quarts while the third one has a 1.5-quart capacity. And of course, each one is made from quality BPA-free materials.
Operating at 650 watts, this steamer is more powerful than you can imagine. Furthermore, it comes equipped with a handy 60-minute timer, which allows you to cook hassle-free We also love how easy to clean this thing is; many of its parts are dishwasher safe. Furthermore, the pots can be nested/stacked, which allows for convenient storage.
So whatever it is you're cooking, be it poultry, meat, fish, vegetables, eggs or baby food, this little guy has you covered. However, do note that the durability of this steamer is contested somewhat by some users. Given the low price, though, we think that's just something you gotta learn to live with!
The instant food steam feature allows swift cooking
8.5 quarts capacity lets you cook for medium-sized groups
Steam basket is stackable for easy storage
Each tray has 6 egg-rests for boiling eggs
The plastic may warp over time
5. Best Vegetable Steamer: Rosewill Electric Food Steamer
Highlighted Features
Capacity: 9.5 quarts
Accepts: vegetables, rice, eggs, poultry
Operates at 800 watts
We're closing off our list of reviews with one of the best BPA free vegetable steamer currently available on the market: the RHST-15001 from Rosewill. Equipped with 3 transparent baskets, this steamer that will allow you to steam not only your vegetables with ease but also rice and eggs. Together the 3 baskets make up a capacity of 9.5 quarts, which is a sweet spot for feeding medium-sized groups.
The performance of this reasonably priced steamer definitely stands out. Operating at 800 watts, this machine starts steaming in less than 40 seconds. Then once it's done cooking, it'll make use of the auto-shutoff feature to turn itself off.
The design of this steamer is also commendable. It comes with two water inlets and also two water vents to allow a smoother steaming process. Plus, the handles stay cool, no matter how long the steamer has been on. Overall, it's a handy little steamer ideal for cooking for medium-sized groups.
However, do note that there are reports about the product's durability, which is somewhat low. Given the price, though, we think it's a fair trade-off.
Comes with water level indicator and dual water inlets
In-built egg holders allow you to boil eggs with ease
Starts generating steam in less than 40 seconds
Stackable basket for convenient storage
9.5 quarts capacity lets you easily cook for medium-sized groups
There are concerns about its durability
Things to Consider Before Buying Food Steamer BPA free?
With such a large number of great BPA free steamers out there, it can be difficult to settle on just one. So here's what you need to keep in mind before making your selection.
Type
The first thing you need to know about BPA free steamers is that they take many forms. There are steamer baskets, electric steamers, and microwave steamers.
As you might be able to imagine, steamer baskets are more high-maintenance to use compared to other types. You'll have to ensure a proper water volume and handle the components carefully.
Electric steamers, on the other hand, are far easier to operate: it's as easy as placing the ingredients inside the container and customizing the settings to your needs. However, electric steamers tend to be more expensive than the stove-top ones discussed above.
You can also opt for a microwave steamer. It's a much cheaper option, and it gets your food cooked swiftly and efficiently, so it's great for time crunches.
Construction Material
The first factor you need to take into consideration is, of course, whether your chosen steamer has been made from BPA-free materials.
Now, the vast majority of BPA-free steamers are made from one of two materials: stainless steel and glass. Not only do these allow you to enjoy a BPA-free cooking experience, but they are also much sturdier than plastic.
Stainless steel is, in our opinion, the best option in constructing food steamer BPA free thanks to its time-tested durability. Glass tends to be a lot heavier; however, your food might come out more flavorful.
Size/Capacity
When figuring out your required capacity, take into account how many people you will be cooking for using the steamer. You'll be spoiled for options, given that steamer baskets can have a capacity of up to 9 liters.
Remember that a large steamer can be used small amounts of food, but doing the opposite will be quite difficult. Accordingly, we think it's best to go for a machine bigger than what you need – just in case.
Design
Steamers vary greatly in terms of their design. While some may have just one compartment for you to cook all your food, others might be multi-layered, with different compartments for vegetables, rice, meat, and fish. Also, look out for whether the different compartments are stackable.
Functionality Features
The best BPA free food steamers, in our opinion, are those that come with some or all of the following features.
Auto Shut-Off: As you probably know, steamers work by using water. This feature enables the machine to turn itself off once that water runs out. This prevents overcooking.
Keep-Warm Function: A common feature that does what it sounds like. Once the ingredients you've inserted in the steamer have finished cooking, the steamer will turn itself on so as to keep your food warm and appetizing until you're ready to eat.
Timer: The timer is, for us, a crucial part of a good steamer. It allows you to take better control of the cooking process and can help you avoid time-related mishaps.
How to Use a Food Steamer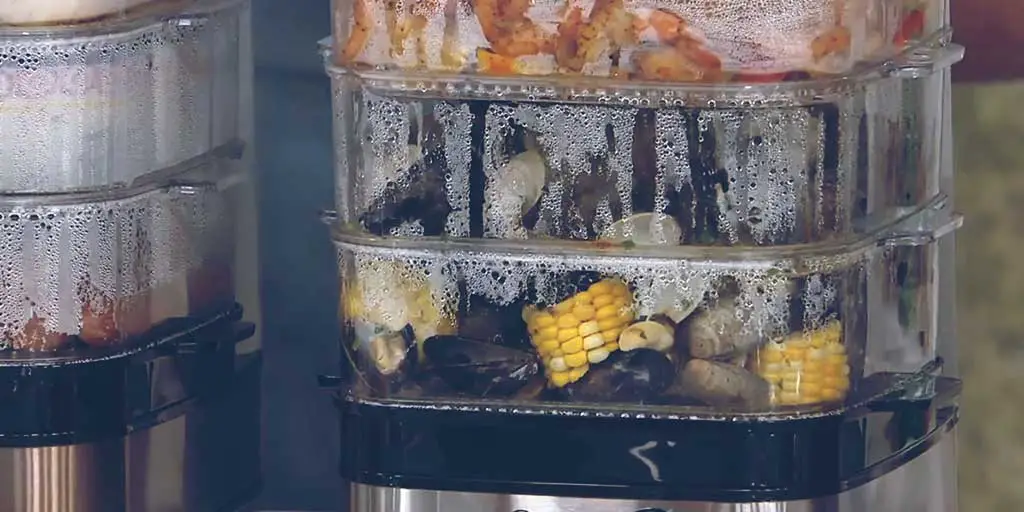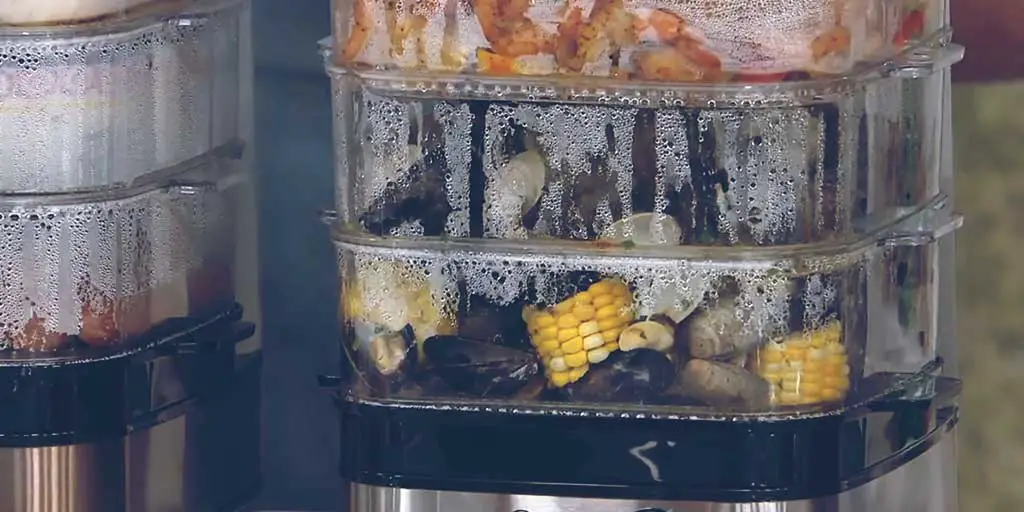 Steamers are quite simple to use and require minimal participation from their users. Here are some more detailed instructions.
Step 1: Boil the Water
You can choose to skip this step, but we'd advise against that. Boiling your water first ensures a greater possibility of your food, retaining its flavor.
Step 2: Prepare Your Ingredients
Whether it's vegetables, fish, or poultry, you must first properly clean your ingredients before placing them inside the steamer. Next, add seasoning—this is particularly important when steaming fish.
N.B: Always defrost meat or fish before putting into the steamer.
Step 3: Add Water
Fill your steamer with water next. It's as simple as that! Your steamer should come with instructions on how much water you'll need to use for each ingredient type; otherwise, do a quick Google search!
Pro-tip 1: Many people like using fruit juices or vegetable/chicken broth to add a kick of flavor to their cooked ingredients. You might also consider adding herbs, such as garlic, rosemary, or lemongrass. Get creative!
Pro-tip 2: Be wary of using too much water, as this can interfere with the cooking process.
Step 4: Set the Timer
Now, it's time to start the cooking process. Once again, you'll need some idea of how much time is required to cook each type of ingredient. You can usually find this information in your owner's manual.
Remember: if you're cooking a few different ingredients, chances are they will each require a different cooking time. So remember to start with steaming the food that requires the longest amount of time.
What Foods are Suitable for Steaming?
One of the best things about steamers is that they allow you to cook almost any kind of food in a matter of seconds. Here's a comprehensive guide to what ingredients can be cooked with your steamer.
Vegetables: You can cook most vegetables in your steamer, with broccoli, cauliflower, carrots, etc. being favorites. Even leafy greens such as kale, spinach, or bok choy will work, or fiber-y vegetables such as gourds, pumpkin, and squash.
Meat & Poultry: Go ahead and put in your fillet, sirloin, or tender cuts into your steamer. Steamers are also great for cooking chicken, be it whole, lean, breast, or shredded.
Fish: Go crazy with your fish! Seasoned fish, fish fillets, and even shellfish are all allowed for cooking in a steamer. You can even put in precooked crab legs!
Rice: Yes, you can use your steamer to cook the rice completely hassle-free. Not just that—you can even make lentils.
Final Words
You asked us what the best food steamer BPA free is, and we gave you 5 different answers. No matter which one you choose, we hope that your food is always healthy, nutritious, delicious and of course, easy to cook. Good luck!
Food Steamer FAQs
How often would I be using the food steamer?
Vegetables, fish, and poultry are some examples of food that can be cooked in a food steamer. So, you can use the food steamer as often as you'd like, given that the food you want to make can be cooked inside one.
Does a food steamer need a timer?
It depends on what kind of ingredients you're using and your steamer. Have a good look through the list of ingredients, and then read the food steamer's manual on how much time each one should take. After that, you can set a timer if you'd like.
How large does a food steamer need to be?
If you're cooking for a big group of people regularly, you may want a large food steamer to cut the time of unloading and reloading it. If you're cooking for yourself or less than three people, a medium to small-sized food steamer should be enough.
Can you cook potatoes in a steamer?
Yes. Food steamers are ideal for cooking potatoes as they can get them done in under 15 minutes without the hassle it would take with a regular pot.
How do you know when steamed broccoli is done?
When broccoli is done steaming, they usually sink to the bottom of the pot after absorbing water. However, if you poke the broccoli after at least 3 minutes of steaming, the fork is likely to pierce through it. Also, broccoli turns vibrant green from stem to cluster after being steamed well.
Are plastic food steamers safe?
If the plastic food steamer is BPA-free, it's most likely safer than a regular plastic food steamer.
What are the disadvantages of steaming food?
Steaming can take longer than standard cooking. Other than fish and poultry, most meats can be difficult to cook evenly because of the low heat of the steamer. This can cause uncooked centers that require a second round of steaming.
What can you use instead of a bamboo steamer?
Metal steamers, microwave vegetable steamers, and plastic steamers are the only types of food steamers that are a close substitute to bamboo steamers.
How long should you steam vegetables?
This depends on the heat capacity of your steamer. But, on average, most vegetables shouldn't take more than 15 minutes in a steamer. However, this varies between vegetables, as most leafy greens take less than 7 minutes, root vegetables like potatoes, turnips, and carrots take a little under 15 minutes, broccoli depends on size, cauliflower takes about 8-9 minutes, and green beans can take 3-4 minutes.
How long should you steam broccoli?
Depending on the size, it takes about 8-10 minutes. But, if you see them turning bright green and impaling to the tines of a fork, then they're ready to serve.
Do you keep water boiling when steaming vegetables?
You should first bring the water to a high-temperature boil until the water bubbles and releases steam. After that, you can add the vegetables and turn down the heat to medium or low heat, depending on what you're steaming.
Which is better, roasted or steamed vegetables?
In terms of taste, roasted vegetables are better. But, for a healthier option, steamed vegetables are the best choice.