6 Best Grill Brush for Cast Iron Grates Reviews
Finally, the party came to an end. Damn! It was the best BBQ party you've thrown so far. Everybody went back to their home to relax. But it seems there's no relaxation waiting for you, at least not for a while. After all, that BBQ grill is going to take a ton of time to get cleaned.
But don't worry; you've got your best grill brush for cast iron grates right there to shine it up again like a knight's armor. Wait a minute! What do you mean by you don't have one? How the hell are you going to get rid of that sticky stuff then? Don't tell me a normal brush is what you had in mind.
Note: This post may contain affiliate links, which means if you buy from my link I might make a small commission. This does not affect the price you pay. See the full affiliate disclosure

 

here.
Don't worry! You're still not too late to bring one in. But there're hundreds of them. So, which one to get? Well, we're just about to get you the right one.
Top 6 Best Grill Brush for Cast Iron Grates
Small purchases can be really tricky, and if you've tried to get your grill brush, you've already understood that we guess. So to cut that hassle short, we've picked the top 6 grill brushes that can make your cast iron grates shiny enough to make light bounce on it. Here's the first one:
1. Kona 720 Grill Brush
The oily stains all over your grills are surely going to be stubborn. This means you better lay your hands on something Stubborn-er! So, if that's what you need, then congratulations! You've got a match here, and it's the 720 Grill Brush from Kona.
If the bristle is what irritates you the most about cleaning with a grill brush, then you're going to love this 12-ounce brush for sure. It'll simply keep that cause of irritation away from you while cleaning your grill up.
And what to say about its heat sustainability? If you're thinking about comparing it to nylon brushes, then this bad boy can take much more heat in. With the stiff-rigid construction, the longevity you're going to get on this one is 5x higher than any conventional one. So, you won't be needing a new brush for years, at least.
This 3-in-1 brush can deal with a ton of variety on the grill. Whether you're using one from Weber, Char-Broil, Porcelain, Ceramic, or Infrared, it can keep up with all of them. The comfortable handle is 18 inches in length to save your hands from getting burned. And angle? You ain't going to get anything but perfection on that part.
Ensures bristle free cleaning
Can sustain heat better than nylon brushes
The rigid construction makes it sustain longer
Perfect for any type of grills
Comfortable handle saves from burning
Should've been better with the corners
2. GRILLART Grill Brush
How does it feel when you're paying for one but getting two instead? Great, right? Well, GRILLART has got something just like that for you. Yes, it's their amazing Grill brush and scraper we're talking about.
No stain on your grills has promised that it'll go away with a simple rubbing of your brush. But GRILLART with their grill brush has got you another weapon to kick them out, the scraper. No matter how stubborn all those sticky leftovers are, this one can clean all of them up, even from the toughest corner.
Are you're thinking about having a comparison game here? Then forget about keeping it in the second position as it'll hit the first position with its 3X more bristle.
Not only with the quantity but with superb sharpness and strength, these bristles can clean up your grill 5X faster than all those regular brushes just in seconds.
Doesn't seem that the brand takes words like Bend and Snap that much seriously. We can't blame them for it, though. After all, with super sturdy woven design, they've left no scope for bending and snapping.
The 18″ durable handle of this rust-resistant brush is so comfortable that it won't even hurt your hands. And to get it the maximum superiority, the manufacturer made it in a way that it'll leave no scratch on your grates.
Works as both brush and scraper
Has a higher quantity of bristles
Cleans up faster than regular brushes
No bending and no snapping
Comes with a sturdy and soft handle
The bristles could've been a little wider
3. Kona 360 Grill Brush
As you've already known about this brand, we guess you've understood how much perfection matters to them. So, Kona thought of bringing something again that you can call the perfect product and gave it the name 360 Grill Brush.
What is the first thing that you check out in a grill brush? If it's the bristle, then we can bet that hard-wired bristles made of stainless steel on this brush will snatch the full marks. Now rather than thinking about arm wrestling with the stains, a simple rubbing on them will tear apart their root.
Don't worry about its handling. The weather-resistant 18″ handle will get you all the perfect angles you need to make your grates shine again. And if you're still confused about whether this brush is going to be perfect for your grill or not, then you can just relax as it goes on with all types of grills.
Now the question jumps in if you're going to need another one any sooner or not after getting the 360 Grill Brush. Well, with its stiff, rigid construction, this 3-in-1 brush ain't going to back off any sooner. And thanks to its 12-ounce weight, it will feel like you're holding a feather on your hand.
Comes with rigid and durable construction
Cleans the grills up perfectly
Can deal with any type of grills
Equipped with a weather-resistant handle
Lightweight construction makes it easy to use
The horizontal side should've been a little bigger
4. Grilljoy Universal Grill Tools Set
Just imagine, you had to swipe your card just for one product, and it brought everything else you needed too? Won't it feel just great? The good news is Grilljoyhas pulled something like that off for you with their Universal Grill Tools Set.
Doesn't matter if you're planning to cover a wider area or a narrow one, with the replaceable two brush heads, you can do both. On top of that, you're going to get scraper on both the woven wire and bristle free grill brush.
And the performance? Well, with the thousands of powerful wire bristles, no stain got a chance to stand there for long. If you like to hear the numbers, then the cleaning will be 5X faster this time.
With the name, you've already understood that there's a set of products waiting for you. But that's not the best part. It's the handle that'll make it all super easy for you. Rather than being similar to the mainstream brushes, this ergonomic handle gets you a super strong grip on it, and the credit goes to the non-slip grip.
And if you're waiting for it to break, then you can wait forever as the strong construction ain't going to let that happen easily. But what about the bristle? Don't worry, you can check with a magnifying glass, but you won't find a single piece of bristle on your grills after cleaning.
Powerful bristle can deal with any stain
Can clean 5x faster than regular brushes
Comes with the two different brush heads
Easy to keep a strong grip over it
Doesn't shed broken bristle
Doesn't have the biggest brush head
5. Kona Scrape Grill Brush
When you're standing against the most obstinate stains in the history of grilling, then you need something that's equally superior, like Kona. You know about Kona and also how good they're at cleaning up stains. But with the Scrape Grill Brush, they've literally changed the game.
Now, you don't need to struggle to clean the grates with tons of accessories. Grab this son of a gun, and with its 360° design, all you have to do is just wait 30 seconds to see the stains getting disappeared. Thinking about the buildups? Well, the solid scraper will kick them right away from your surface.
And don't even think about the longevity. With 85% high rigidity, there's no way you'll be seeing any other brush for years. Once you get started with the cleaning, you won't have to take a headache about the type of your grill. It's because this triple head design brush is meant to shine up all of them.
One thing team Kona has never forgotten to keep right up to the mark, and that's the length. After all, you don't want to burn off your hands in the process, right? Just like the best brush for cast iron grills, with an 18″ length, this brush has lowered that possibility too.
Takes the minimum time to clean up stains
The scraper takes stubborn buildups out
Can last for years comparing to regular brushes
Boasts the ability to clean and shine up any type of grills
Comes with the perfect length
Not the lightest brush made by this brand
6. Grillaholics Pro Grill Brush
If you're not new to the world of grill brushes, then there's a lean chance of you not hearing about the brand Grillaholics. You can literally call it the Alpha of the grill brushes. So, we thought wrapping our review part up with its Pro Grill Brush.
A single piece of a bristle is more than enough to get you a tour of the hospital. So, to make sure that doesn't happen to you with this brush team Grillaholics has got its bristles made of heavy-duty stainless steel. Now, you can tear apart the juiciest meat with every bite, but you won't get anything like bristle in there.
On the meter of strength, the Pro Grill Brush has been proved 50% stronger. But what about the durability? Well, with 25% high durability, you won't have to check out for a new brush any sooner.
With the 18″ length, you can forget to come in touch with the heat anyway. On your busy schedule, this brush can clean your grill up 5X faster than those metal pieces that you call a grill brush.
Keeps the cleaning bristle free
50% stronger than regular brushes
Lasts for a very long time
Longer handle keeps the heat away
Can clean up the grill faster
Doesn't have any scraper
Things to Consider Before Buying Grill Brush for Cast Iron Grates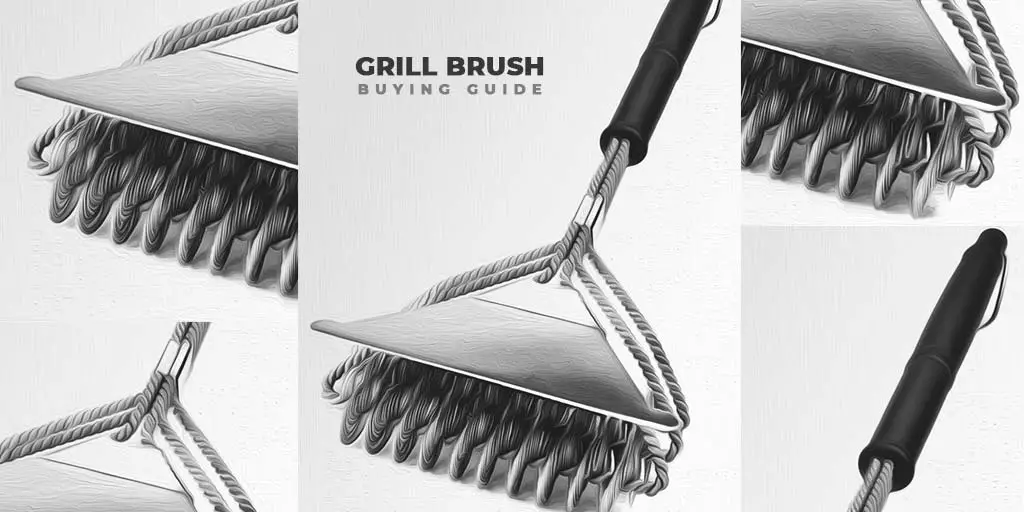 You might have a ton of money, but you can't be called a wise buyer if you don't know what you should check out in a product. The same goes for the grill cleaning brush as well. So, if you really want the best grill cleaning brush for cast iron grates right on your hand, then you better check the following things out.
Right Type of Brush
If you don't want to spoil your grill grates, then you better pick the one that can clean your one up perfectly. The best option here is choosing a brush that can keep up with any type of grills.
Size of the Handle
You might be thinking shorter handles will make it easier to store. If so, then you should also be ready for the discomfort you're going get for free with it. So, pick a brush with a longer handle as that'll lower the chances of getting burned and will also get you a better cleaning.
Storage
As you ain't going to need it frequently, you better check the ease of storage with the brush. Pick the one with metal loops or leather strings. They'll make it easier to hang the brush and save space.
Bristles
Have you ever thought about how it will feel if a piece of bristle gets stuck in your mouth? If you don't want that thought to jump into reality, then pick a brush that won't shed the bristle all over your grills. Check out the durability of the bristles in order to avoid any future accidents.
Scraper
The stubborn stains are something that has the talent to piss anyone off just in seconds. So, if you don't want the same for you, pick a brush that comes with a scraper. It'll get you rid of any hard residue with super ease.
What is The Safest Way to Clean a Grill?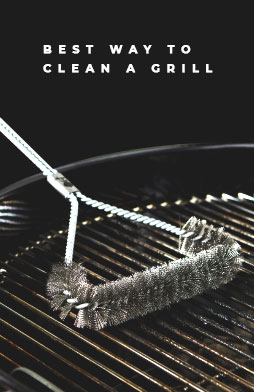 Do you know what makes cleaning and messing things up different from each other? Choosing the right way of execution. So, if you don't want to end up with a mess on your grill, then you better learn the right and safest way to clean it up.
Now comes the question: what to do for cleaning it up safely? Well, nothing can do it better than a set of organized work steps. Want to know what they are? Here's your answer.
Step 1: Get All the Cleaning Equipment
You're not planning to do it all with a wet piece of cloth, right? Then you better get all the equipment you need to make the grill clean as new. You're going to need a long-handled cleaning brush, a bucket big enough to soak the grates, warm water, dish soap, vinegar, and baking soda.
Step 2: Heat It Up
Now, get the grill to the maximum heat level and close the hood. Let it be that way for the next 30 minutes. This way, it'll burn off all the remaining foods and grease there.
Once the time is out, take your wire brush and dip it into the warm soapy water. After you're done with scrubbing all the carbon off the grates, let it cool down.
Step 3: Taking the Parts Out and Soaking the Grates
It's time to take the grates out and soak them into soapy water. Count the time 30 minutes here once again. If possible, take the other parts like warming racks, grease trays, and burner control knobs out too. The more parts you'll take out, the easier it'll be for you to clean the whole thing up.
Step 4: Clean Everything Up
Yup, you've heard it right. Get the brush and clean all the parts properly. Make sure that you're scrubbing everything properly that has a buildup on its surface. As you've already got the grates soaked, start with them first. Scrub them with the grill brush.
If you're seeing the stubborn gunks all over it, then make a paste with baking soda and white vinegar. Now, apply it all over the grates and give it a rub. Make sure you're covering all the caked-on food bits too. Now, dry it thoroughly in order to save them from rusting.
Finally, let's focus on the burner tubes. Check out if you can see any blockage on the flame-emitting holes row. Take your brush and give a rub thoroughly over the row of the holes. Then clean the inside too and use the wire bottle brush if you need to.
Step 4: Putting It All Back
Once you're done cleaning all the parts, put it all together. Also, check the connections if those have been set properly or not.
Frequently Asked Questions
What kind of grill brush is safe?
Using the brush that doesn't lose bristle is indeed the safest one. Because any loose bristle on your grills can get stuck in your food, and you know what can happen if it goes in.
What can I use instead of a wire brush for grilling?
If you don't prefer wire brushes for getting your grill clean, then there're several alternatives you can go for. The list includes options like Nylon bristle brush, grill cleaning blocks, Pumice stones, etc.
What's the best way to clean a grill grate?
At first, scrub the grates lightly. Then soak them in soapy water for one hour, at least. Once you're done there, pick it up and rinse it. Now, put the grates back to the grill and close the lid. Then heat it up. Once it's warmed, take the grill brush and scrub off all the additional residue on it.
What happens if you swallow a grill brush bristle?
Swallowing a grill brush bristle is indeed extremely dangerous. There's a high chance of ending up with health issues like throat pain, dysphagia, odynophagia, abdominal pain, or globus sensation.
Can you put a grill brush in the dishwasher?
Yes, you can. But you better wash it first with water by using non-citrus based soap. Otherwise, the greases and food remains might clog the plumbing system of your dishwasher.
Final Words
If cooking is considered as an art, then you can surely call the cast iron grates a canvas. After all, that's the place where you'll do the artwork, right? So, you better keep that canvas clean and what can help you with that is the best grill brush for cast iron grates.
We've got you the finest options that can do the job better than any other tools around. Now, the ball is on your court. So, you decide which one of these is going to be a perfect match for your grill.