8 Best Cast Iron Grill Press Reviews (Buying Guide)
Perfectly cooked grilled meats can be incredibly delicious, amazingly juicy, and an overall treat to your taste buds. Each bite will take you to heaven and leave you craving for more! Just the thought of it is probably making your mouth watery if you're anything like me.
Well, with the best cast iron grill press, you won't have to drool any longer because you can cook your own flavorful meat easily and within minutes!
Finding the best grill press can be tricky because they aren't made to be equal. However, allow us to ease up the process with our list of the finest accessories that you can use to cook your favorite meat at your backyard!
Note: This post may contain affiliate links, which means if you buy from my link I might make a small commission. This does not affect the price you pay. See the full affiliate disclosure

 

here.
What's a Grill Press
Briefly speaking, a grill press is what gets you those mouth-watering deeply seared steaks, perfectly cooked bacon, and crispy-skinned fish fillets.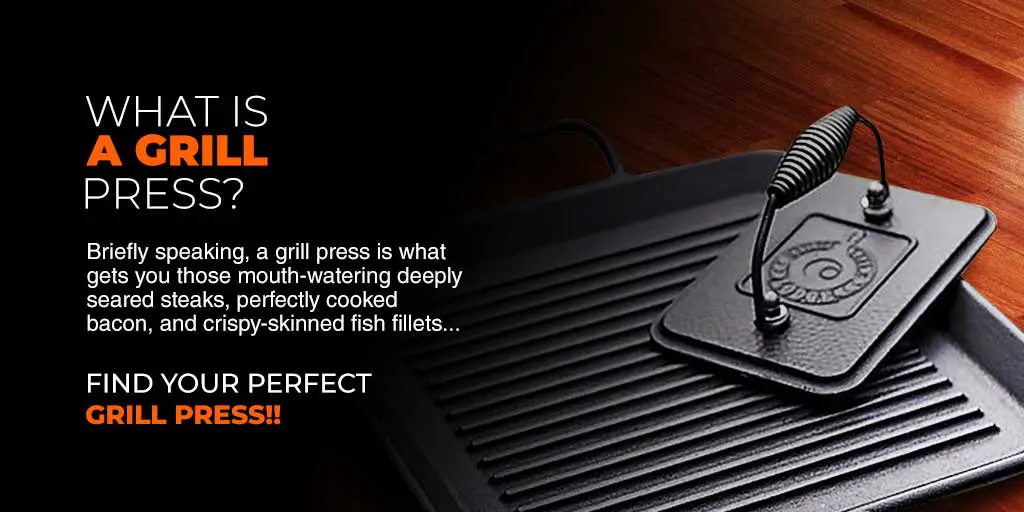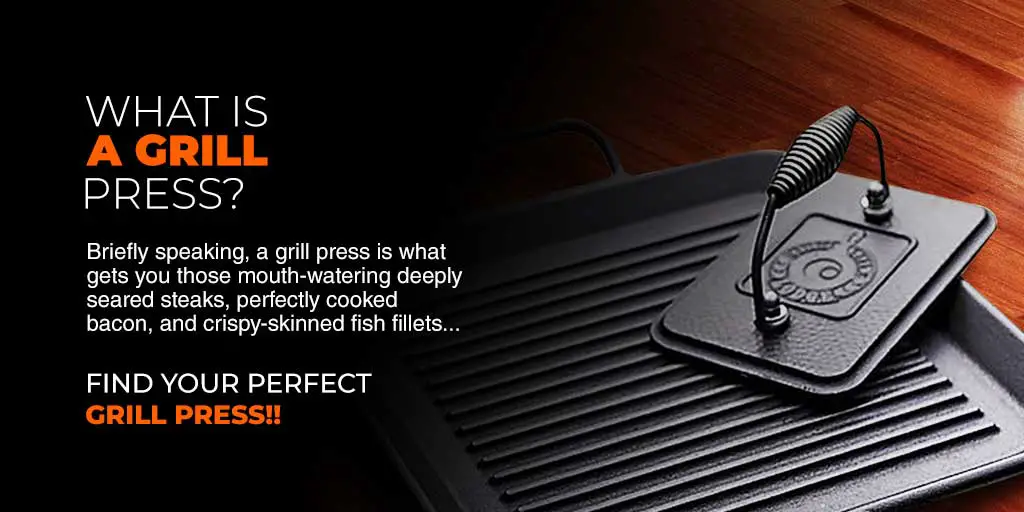 Let us dive a bit deeper for better understanding. A grill press is a cooking accessory that is usually made with a cast iron. It boasts a wood handle on the top. The cast iron bears some weight and can be easily heated.
So, you can heat it up and then press your meat. This will make the meat cook faster and give it the distinctive smoky and grilled flavor. It's a must-have equipment for any grill and BBQ enthusiast.
What to Look When Buying Grill Press
Since there are too many options, you'd have a hard time choosing one. However, by considering a couple of things beforehand, you'd be able to find your suitable product easily!
Press Materials
The press material makes the biggest difference between one grill press and another. In general, the majority of the tools are made with cast irons, and they are also the most preferable choice. That's because they are much better at retaining heat than stainless steel. They are capable of deeply searing the top of the foods.
Stainless steel, on the other hand, doesn't require frequent maintenance. They are also easier to clean up as they can resist rusts.
Weight
This is an important thing to consider because how well your grilling accessory will press heavily depends on the weight of the press material.  It should at least weigh 1 pound because anything less than that won't provide adequate results. In general, the pressing material should be between 1.5 pounds to 2.5 pounds.
Handle
The handle shouldn't be so low that you have to struggle just to hold it. It should be 2 inches long and made with materials that stay cool to the touch. Wooden handles are the best in this case because they don't pick up heat. Besides, the handles should have proper grips to prevent them from slipping off!
Dimensions
It doesn't matter what shape of grilling press you want. What matters is the size of the press. It should be just as big as the food you're planning to cook. Larger doesn't mean better naturally because it can't press what it cannot touch.
Top 8 Cast Iron Grill Press
Here is a list of the top grill presses that we've chosen through our research.
1. Best Overall: Lodge LGPR3 Cast Iron Round Grill Press
The lodge is an iconic name in the world of cooking equipment. Their LGPR3 will make your dream of preparing extremely appetizing grilled foods a reality! If you're on the fence about buying the right grill press, then you can go for this one with your eyes closed because it's designed to be an all-rounder!
The pre-seasoned round cast iron press comes ready to be used right off the box. With it, you can squeeze the extra fat away from your meat. Besides, this tool makes sure to keep the bacon perfectly flattened while preventing them from getting all messed up under heat.
Just like any other high-quality equipment, this model speeds up the cooking process while evenly spreading heat to each part of your meat. The heaviness, size, and the flat bottom make it the perfect choice for making smashed burgers!
The "cool grip†spiral handle provides comfort in holding it
Highly versatile as it can be used in ovens or on top of the grills
Retains enough heat to perfectly grill any kind of meat
Requires high maintenance to prevent rusting
2. Budget Pick: P.I.P.E Large Hamburger Patty Maker and Grill Press
If you want to grill in style, you should go for this luxury product. With polished handle, amazing finishes, and aesthetic design, it looks extra appealing!
This model specializes in making picture-perfect hamburgers that look as if they were served in a luxurious restaurant prepared by a world-class chef! They will always look and taste perfectly cooked, therefore extra delish– thanks to the 4.6†mold. You won't find any cracked or broken edges in your patties.
Additionally, this hamburger maker will evenly cook each of your patties. Furthermore, the wooden top handle dissipates heat perfectly to offer comfort.
Easy to make the perfect hamburger patties every time
High-quality mold created with lightweight aluminum
Excels at making delicious stuffed burger
Unsuitable for making large patties
3. Premium Pick: Tezzorio (Set of 3) Cast Iron Steak Weight Grill/Bacon Press
The 3 sets of these amazing grill presses can be great additions to your kitchen. You will be able to cook restaurant-grade burgers, bacon, and even grilled sandwiches in your home!
This model comes with a remarkable cast-iron press that presses the meat flat on the grill to ensure it receives just the right amount of heat. At the same time, the heat stored in the cast iron will cook the other side. As a result, it will take half the time to get your food ready to eat!
The underside is textured; therefore, your cooked meats will have that mouth-watering grill-marks on them. You won't feel any burning sensation when you grab the comfortable wood handle that fits perfectly to your grip!
Speeds up the cooking time
Durable cast iron ensures perfect searing
Allows you to cook restaurant-grade foods
Might get rusted if not used frequently
4. Lodge LFIP3 Lodge Flat Iron Grill Press
Turn the raw meats into flavorous treats that will relieve your massive cravings for delicious foods at the comfort of your home with the Lodge LFIP3!
This's 8.25†flat iron grill press is the perfect size for matching the majority of your skillet and grill pan. Lodge's specially designed flat grill press can sear your meats on both sides simultaneously in collaboration with the skillet grills. As a result, you will cook steaks, seafood, and other meats with restaurant-quality!
It keeps bacon perfectly flat and ensures they don't curl up even if they're quite thin.  Additionally, you'll get to drain the excess fat from your meats using the press.
The pre-seasoned grill press saves the trouble of seasoning
Created with highly durable materials
Cooks extremely delicious steaks, bacon, and even panini sandwiches
Some people complained about its heaviness
5. Outset 76609 Heavy Duty Grill Press
If you're looking for heavy presses, you can rely on this impressive equipment to grill yummy and juicy foods that can satisfy just about anyone! The combination of commercial-grade cast iron, stainless steel, and aluminum construction makes it last for generations!
With heavier grill presses and 50% more surface area, you'll enjoy grilling your favorite meats faster and with more efficiency. The heavyweight design ensures delicious sear lines in your steaks, chops, chickens, and burgers. Additionally, you can cook super crispy sandwiches that simply melts in your mouth!
The unique coil design of the handle makes it highly effective in dissipating heat while giving the model an aesthetic look.
The iron cast comes pre-seasoned to eliminate the need for frequent seasoning
Offers heavyweight presses
Safe to hold thanks to the unique coil design
Durable
The embossed design makes it harder to clean
6. Bellemain Cast Iron Bacon Press
This round bacon press weighs 3 pounds and looks indestructible with its heavy-duty cast iron press. Whether you're cooking bacon, steak, or even sandwich, it will make sure they sear evenly. As a result, it won't leave any section raw or overcooked!
Additionally, the tool manages to distribute the pressure almost evenly. It also traps all the flavors and retains them in your food. So, when you take off the press, you'd be looking at luscious meats that are too hard to pass on!
The stylish wooden handle does not heat up so you can hold it without the fear of burning your hands!
Heavy-duty cast iron evenly distributes weight
Versatile application as the diameter fits almost any cooking area
Ensures foods are evenly seared
Looks nice
7. Outset Q112 Cast Iron, 8 x 8 x 3.25 inches, Round Grill Press
We've got a fantastic grill press that will help you cook the perfect meats or fishes at an extremely affordable price range.
The Outset Q112 boasts a multifunctional cast iron that can be used to apply on different types of cooking methods. It will make sure both sides of the meats are evenly heated and cooked while pressing out the extra fat. Additionally, the thin slices of bacon will be grilled without getting all curled up!
Thanks to the pre-seasoned cast iron, the surface will always remain non-sticky. Within minutes, you'd have your burger, fish, or sandwiches all crisp and ready to eat! Never worry about getting your hands burned as the handle is made with rosewood that does not pick up the heat!
Extremely reasonable price
Capable of grilling any food
The durable cast iron ensures perfect heating
Appealing grill marks produced by the thick grooves
Some find the handle to be a bit too short
8. Old Mountain Pig Shaped Grill/Bacon Press
For all of you bacon lovers out there, we've got the top grill press that specializes in cooking bacon!
This cooking equipment is nice and heavy that comes with a heavy-duty iron press. It ensures every part of the bacon is evenly cooked. The smooth bottom surface will keep your meals flat and prevent them from twisting into a mess. It also excels at smashing burgers!
The grill press comes pre-seasoned to prevent stickiness. It doesn't require deep cleaning. You can just rinse this one with water and dry with paper towels after every use. The pig shape makes the product extra appealing!
This model is easy to grab aided by the spiral bail handle that won't get heated up. So, you can use it comfortably.
Quite sturdy
Easy to use
Grill press is pre-seasoned and bears enough weight
Heats up every part of your meat evenly
The handle doesn't remain as cool as wooden ones
What Do You Use a Grill Press For?
As the name suggests, a grill press is used for grilling meats, fishes, and sandwiches. You can't just leave your food on the grill and expect it to be cooked perfectly. For that, you'd require a grill press.
The heavy metal can be used to press on the meat or any other food that you're grilling to evenly sear the heat. It also makes sure the bacon or other thinly cut meat doesn't get curled up.
If you press it right, you'd be left with super delicious foods that have appealing grilled marks on them! And if you're cooking sandwiches, they will be just the right amount of crispy!
How to Use a Grill Press for Hamburger?
You can easily cook hamburgers using a grill press. Once you get comfortable with it, you'd be cooking super delicious foods with no trouble!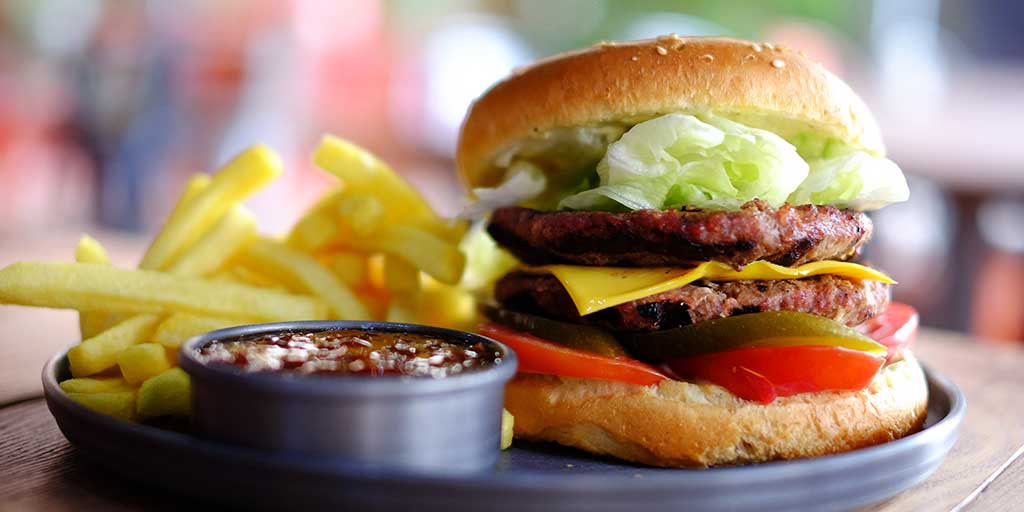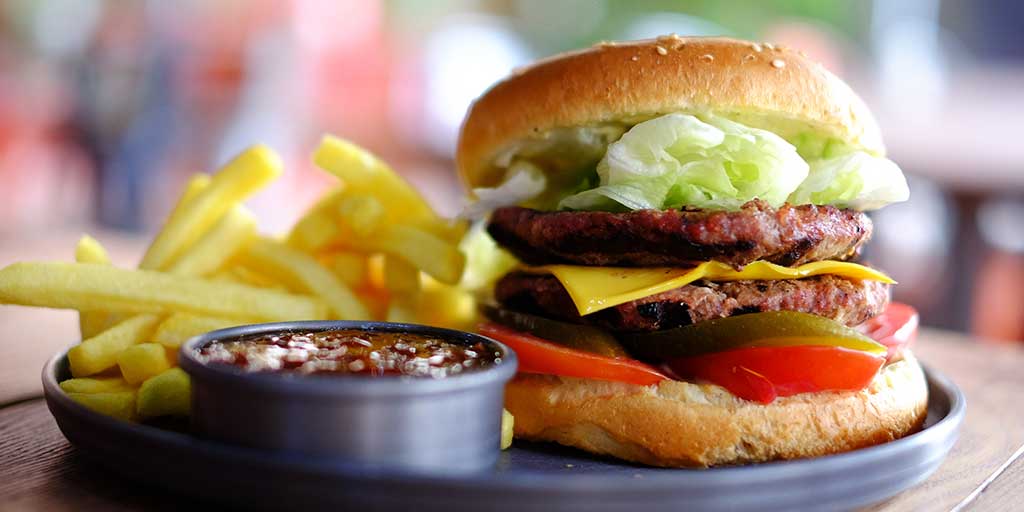 At the very beginning, prepare your hamburger by following a great recipe. If you've got a secret family recipe, that's great too!
Now, place your grill press on the grill to pre-heat it. Make sure it receives enough heat. Once it's reached the desired level of temperature, take the press off and leave it on a safe space.
Go ahead and pick up your hamburger and put it on the grill. Now, grab the pre-heated grill press and place it on top of your food. Leave it on for as long as necessary; usually, one minute is more than enough. Once one side of the patty looks nice and delicious, flip it over and press again for about 30 more seconds.
That's it! Simply remove the well-cooked patty and assemble the hamburger to your preference!
Conclusion
With the best grill press, you can make the perfect grilled meats, fish fillets, and even sandwiches that taste amazing at home! You just have to be careful enough to select the one that caters to your needs the most. The best cast iron grill press will allow you to quickly cook the most delicious foods!