Best Pots and Pans For Electric Stove [How to Choose] 2022
Glass top stoves are modern stoves that operate on electricity. They bring a stylish and elegant design to your kitchen. If you have one of these sleek-looking stoves, or you're planning on getting one, you must know that these stoves have a major benefit compared to traditional ones. That is, you don't have to maintain drip pans separately as you would for any other stove.
Now, if you're looking for the best pots and pans for electric stove, we're here to help. Not only are these stoves amazing for a sleek and minimalist look but also they function greatly. And the best part is, you can use almost all kinds of kitchenware with these cooktops!
From stainless steel to hard-anodized aluminum, we have included the top cookware sets for electric cooktops in this article. If you check out the buying guide and the best types of cookware to use with these stoves, you will be able to reach a conclusion that will please you.
Note: This post may contain affiliate links, which means if you buy from my link I might make a small commission. This does not affect the price you pay. See the full affiliate disclosure

 

here.
Best Overall
T-fal E765SH
This pan is made of titanium and has a nonstick interior that won't scratch, doesn't have any toxins, cooks food beautifully and perfect for everyday use.
Best Budget
Cook N Home 02588
This cookware is made of aluminum that provides even heat/quick conduction, prevents hot spots, and has a nonstick surface.
The Best Pots and Pans for Electric Stove
In order to get the best cookware for electric glass top stove, you need to go through the trouble of looking at countless dishes and pans. Fortunately, here we can save you the trouble by giving you a list we have made for you. Here goes the list!
1. T-fal E765SH Ultimate Hard Anodized Nonstick 17 Piece Cookware Set – Best Overall
Are you a fan of cooking but can't dare to play with fire? Don't worry, this set of cookware that we have here will handle all your worries in the kitchen for you.
This set includes everything you might need – it comes with three frying pans in the sizes of 8, 10.25 and 11.5 inches. These will be used to fry, sear or brown any kind of food you want to cook.
The variation in the sizes ensures that you have different options. Now, we all know from our moms that saucepans are the most popular cookware item. That is why this set includes 3 of them. The sizes are 1, 2 and 3 quarts.
You will also find a griddle of 10.25 square inches, which can be used to sear meat items or bread loaves. The specialty of the griddle is that it provides a completely flat surface for an even heat distribution. Frying pan has curvature, and cooking on them brings about very different results.
Then you also have the 3.5 quarts deep sauté, a 3-quart steamer insert, a 5-quart oven glass lid, and a one-egg wonder frying pan. With such an extensive list of items in the set, you will never need to buy another utensil for the kitchen for a good number of years.
Has a thermal indicator band that lights up to indicate temperature
The anodized aluminum protects the cookware externally
Non-stick surface is made with the most resistant element
Handles are made of silicone, which never heat up much
It can handle up to 400 degrees Fahrenheit in the oven
Utensils are dishwasher-safe
Many of the pans don't sit flat on the stove
Related: 6 Best Nonstick Frying Pan For Glass Top Stove [2022]
2. Cook N Home 02588 12-Piece Nonstick Cookware Set – Budget Pick
If you want a dash of color in your kitchen, then these dishpans will really catch your attention. They are of a beautiful turquoise color that will brighten up the look of your kitchen instantaneously. But looks are not the entire story of these pans. They are merely a bonus to the quality and features they come with.
Now, let's begin by analyzing the contents of this set. You will get two saucepans of 1.5 and 2 quarts, one casserole of 3 quarts, one lidded Dutch oven of 5 quarts and two lidded frying pans of 8 and 9.5 inches. Additionally, you also get a spatula and a spoon with it.
All the pans mentioned above have been individually designed with the best construction details. The thick aluminum that has been used to shape them up into their respective pieces are a testament to the durability of the pans. No heat or hit can cause the body of these pans to get dented.
The best part about having these pans is the satisfaction you will get while cooking. With sturdy stead, these pans sit atop the stove and remain there completely stable and safe for stirring when required.
You will be able to hold the handles for extra support. Like all good cookware pieces, the handles on these items are made of a material that does not conduct heat. You will be at complete ease while using these delightful utensils.
Can be used in all types of stoves
The pans have a beautiful and unique color
They are made extra durable in order to withstand daily use
Nonstick coating does not budge even after months of use
Has cool handles with a shape that is made to provide good grip
Not entirely safe for the dishwasher
See Also: Best Non Toxic Pots and Pans for Gas Stove and Oven 2022
3. GreenPan CC002120-001 Levels HA Nonstick Ceramic Cookware – Premium Pick
Whether you want to fry your food or sauté it, using the same pan for everything will not only cause your utensils to corrode faster, it will also affect the hygiene of the food and the quality of your cooking.
That is why you need to get a good set that promises quality. Lids will be provided along with the pans so that you can keep the vapors of the food inside, and exact flavors with every dish.
Now, to begin naming names, we have three saucepans here in three different sizes, which are, 1.5 quarts, 3 quarts, and 6 quarts. You will also find two frying pans in the very convenient sizes of 10 and 12.5 inches. Only the bigger one comes with a lid.
After that, you have the round grill pan of 11 inches. Doesn't this sound amazing? The quality and flavor of the food will be very similar to the taste created by grill machines. You can grill any food you want with this pan without going through the big hassle of getting the grill prepared.
All the utensils in this cookware set have been made with ceramic layered with diamond-infused layers for a nonstick coating. The coating is made with sand in order to keep it completely free of toxins, which makes the surface safe for cooking as well.
The non-stick coating that doesn't come off
No heat gets transferred to the handles so that they remain cool
Certified by PFAS and PFOA to be completely non-toxic
The structure of the body is very sturdy
All the pans are dishwasher safe
Can resist temperatures of up to 350°F in the oven
Appears to be completely devoid of drawbacks
See Also: 8 Best Cookware Set Under $100 of 2022 (Buying Guide)
4. Simply Calphalon Nonstick 10 Piece Cookware Set
Cook at home, eat healthy and live a great life where thoughts about dirty dishes do not bother you. You need good kitchen utensils for that kind of life and let us tell you that investing in a good quality cookware set will be well worth the investment.
The one we have here contains all the features you might need in order to cook some of your favorite stove dishes. There's a lot that can be done with eggs. To experiment, you have two omelet pans in this set. They come in the sizes of 8 and 10 inches.
Moving on to the other pans, we find saucepans of three very useful measurements. Get each of the 1-quart, 2-quart and 2-quart pans with tempered glass lids on top.
Finally, we have the stockpot that is 6 quarts in size. These pans are made with aluminum, which is an excellent conductor of heat, to begin with.
The pans are nonstick, and they have a double coating inside. This makes the pans even more resistant to damage. They are 100% safe in the oven and can be heated to temperatures of over 400 degrees in Fahrenheit.
One caveat, however, is that they are not dishwasher safe. But this is only to ensure that they last you for a longer period of time than many other branded pots in the market.
Glass lid are made of tempered glass
Heat distribution is thoroughly even due to the aluminum make
The aluminum cookware is anodized and so will last much longer
They are safe to be used in the oven
These pans cannot be put into the dishwasher
The size is not suitable for cooking food for more than 1 person
5. Rachael Ray 87630 Cucina Hard-Anodized Nonstick Cookware Set
Do you want to be fearless when cooking? Yes, that nagging fear of burning the pan to crisps is illogical. Yet, if you still find yourself scared, you should definitely opt for this enduring cookware set right here. which is often considered as the best cookware set for electric stove.
All the pans in this set are anodized, which means they have a thin layer of coating on top to protect them from absorbing too much heat.
Moreover, the coat of nonstick on the anodized stainless steel makes food slide over the surface without sticking to the pan at all. The nonstick surface won't give out toxic fumes as it is absolutely free of PFOA.
You will also be able to put these into the oven and heat up to about 400 degrees in Fahrenheit. The heat will spread evenly throughout the entire pan.
Due to the solid construction, it will easily be able to endure strenuous hours of high heat. The handles are soft rubberized, and the rubber is riveted for better grip.
In this set for under $200, you will find two saucepans of 1 quart and 2 quarts in measurement. You will get a stockpot of 6 quarts with a lid, and two skillets of 8.5 inches and 10 inches. Then there is the saute pan that measures up to 3 quarts and comes with a lid. You will also get a spoon and also a slotted nylon turner. This really is the full package for any cooking you might need to be done.
Comes with a spoon and a turner
The non-stick is PFOA-free, so it won't give off poisonous fumes
Can be heated to temperatures of 400 degree-Fahrenheit
The coating doesn't come off even with daily use
These pans slip off of the stove because the bottom is too slippery
The anodization wears off very quickly, and the pans look ugly after
6. Cuisinart TPS-10 Tri-ply Stainless Steel Cookware Set
Have you ever wondered about a time in the kitchen when you could cook without worrying about the pans afterward? Well then, here's that good time – it's finally upon you, with the stainless steel tri-ply induction cookware set that we have for you here.
Due to the stainless steel construction, these utensils can withstand any kind of damage. You will get two saucepans, both of them come with lids.
The sizes are 1.5 quarts and 2.5 quarts. These pans are very thick and sturdy. Many pans in the market do not stand steady on the stove. Not these ones, though. 
Then comes the 3-quarts saute pan. This pan is an essential in every kitchen. It is used to sear, sauté, and stir-fry food dishes to give them a rich flavorsome appeal.
After this very vital item, you have another one of those must-have products. Well, two of a kind actually. These are skillets in two sizes – 8 inches and 10 inches. If you are into fried food, then skillets will make your life a lot easier.
Finally, you will profit from knowing that these pots and pans are safe for dishwashers and induction stoves – they can be directly put into the oven for cooking dishes. And don't worry, you will be safe from burning your hand thanks to the stainless steel handles.
The cool steel exterior of the pans will make your kitchen elegant
Handles are riveted for better grip and support
Keep track of the cooking process by looking through the tempered glass lid
Safe to be put into the oven at up to 500 degree-F
Cleaning is no hassle because these are dishwasher safe
The quality of the skillets is not that good
7. Stone & Beam Kitchen Cookware Set
Whether you are buying cookware for the first or just getting a replacement for your old cookware set, this will most probably be the last time you will be reading an article on this. Yes, this cookware set has everything you want in your kitchen.
It has 17 pieces that will make all your bookmarked recipes come to life. All you have to do is to pour the ingredients in. The heat spreads out evenly in the pans and cooks food to perfection. All the pans are made of aluminum, and they are all anodized for increased durability.
You will get 3 saucepans, 3 frying pans, 2 saute pans, one dutch oven, one grill, and one stainless steel steamer. All of these will come in the color of brushed nickel. You will be quite impressed with the top-notch quality of the pans.
These are made with an amalgamation of aluminum and stainless steel. This is why heat conduction is fast, and even all throughout the pan.
Due to the nonstick coating on the surface, you will be able to cook without the dread of getting food stuck in the bottom of the pans.
The most important aspect about nonstick coating is that it's completely non-toxic. Lids are made of glass, which will be extra helpful to you since they will allow you to peek in and check on the progress of the food.
The combination of aluminum and stainless steel is very durable
Tempered glass lids come with every pan
You will get two stirring utensils for ease of use
Non-toxic nonstick coating keeps the taste fresh
The frame is very thin, gets dented easily
8. Cuisinart 66-11 Chef's Classic Nonstick 11-Piece Cookware Set
Tired of not finding the right utensils for your favorite recipes? Well, here's a one package solution for you. This 11-piece set will probably be able to give you everything you need and more. With the anodized external body of stainless steel, this set is guaranteed to serve your needs in the kitchen.
The material is very resistant to all kinds of scratches and damage. It is made of a non-porous, dense material that has a layer of the non-stick coating on top.
Many people are apprehensive of nonstick pans because they can be toxic. Not in this set though. The non-stick coating is not of Teflon; rather, it is made with a material called quantanium, which is reinforced with the power of titanium in order to be much more effective and durable.
The heat distribution will be spread out evenly throughout the surface of the pans. No hot spot will ruin the taste of your food with uneven cooking.
Another thing that will make your kitchen a safer place is the stainless steel handles that never get heated up. Regardless of how high the temperatures rise; your handles will never burn your fingers.
The glass lids are made of tempered glass, so they will allow you to peek into the pots and check the progression of the cooking. They have a very firm fit with the pan, and this seals out moisture, leaving all the flavors to simmer and pop inside. Thus, making your dishes all the more delicious!
The stainless steel handles keep their cool and keep the user safe
Surface anodization on the pans make them very durable
Glass lids are convenient for checking up on the food
Nonstick coating is safe, and it doesn't tamper the taste of food
The quantanium coating gets discolored and scratched
Cannot last long
9. Calphalon Classic Pots and Pans Set
Invest in a good cookware set, and you will never regret it. You will not only be able to save money but will also be able to experiment with the flavors and opt for healthier recipes without spending the extra bucks. This classic set that we have from Calphalon is of great quality.
Whether you cook infrequently, or a lot, you will never be able to put a dent on these pans. Most nonstick pans do not survive long. But these ones here have a double layer of the nonstick coating on their aluminum body.
In order words, the layers will firmly stay in place for many months. These are completely budge-resistant and resilient to damage.
The hard-anodized aluminum body ensures that the heat is evenly spread out over the pan. This cooks your food evenly through and does it really fast.
Even though the pan itself reaches very high temperatures, the handle stays cool all along. Such is the make of these pans, and this is the reason why they are so satisfying to use.
All of the 10 pieces in this set have measuring marks on them so that they can easily be used to gauge out proportions. If you are new at cooking, you will find this feature particularly helpful as it lowers the chances of you getting the proportions wrong and messing up the game.
These utensils are compatible with different types of stoves, and in the oven, they can handle temperatures of about 450 degree-F.
Anodized aluminum ensures the pans don't get dented
Double layered nonstick coating on top
Heat distribution is even all throughout
The pans are oven safe for up to 450 degrees in Fahrenheit
The coating in some of the pans is uneven and defected
10. Viewee Induction Cookware Set
Let us tell you right now that non-stick pans are not a myth. Yes, you heard, right. And if you want proof, you need not go further. We have right here an 8-piece example for you right here. This set from Viewee is regarded by many as the best cookware for electric coil stove and has all the pans you need in order to cook food for the entire family.
The pans included in this set are the 9.5-inch skillet, the 1-qt saucepot, and three saucepans, in three different sizes – 1.5, 2.5 and 4 quarts. Only the saucepans come with lids. At the bottom of these pans is a tri-ply aluminum layer sandwiched between layers of stainless steel.
Now, the metal at the bottom are 4 mm in thickness. They do not run the risk of getting warped with any amount of heat from a stove.
Due to the construction of the pans, it is ensured that the surface is smooth enough to direct an even heat throughout. The stainless steel coating on top makes the pans nonstick, and also ensures that there are no tears on the top surface.
You can put these pans in the dishwasher without any trouble. Only remember to take the lids off before you put them in. Since the lids do not require rigorous washing, they have not made to be as tough as the body.
Heats up very quickly due to the aluminum body
The stainless steel nonstick coating is very resilient
Pans are safe to be put into the dishwasher and the oven
They can also stand stable on the stove
Pans are very durable, and they do not get discolored
Stains appear on the surface with frequent use
Things to Consider Before Buying Cookware for Electric Stove
Knowing the names of some good brands and products won't cut it. You need to get right into the details to know what exactly you want and where you will find it. It's fairly simple, really. This guide will tell you everything you need to know to find the perfect cookware for you.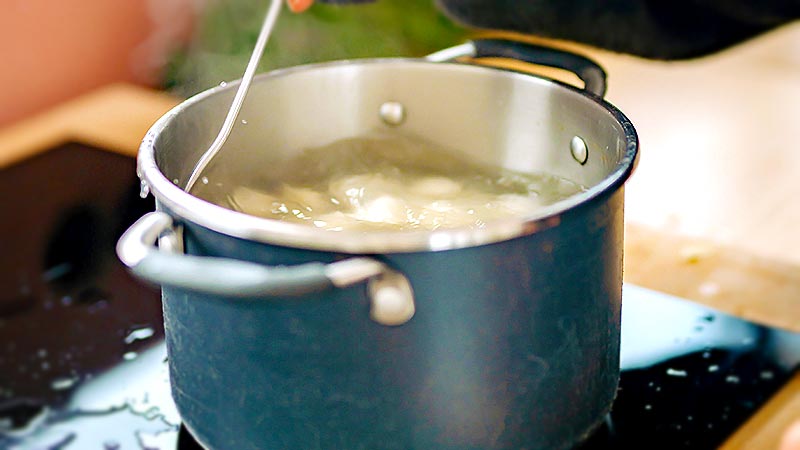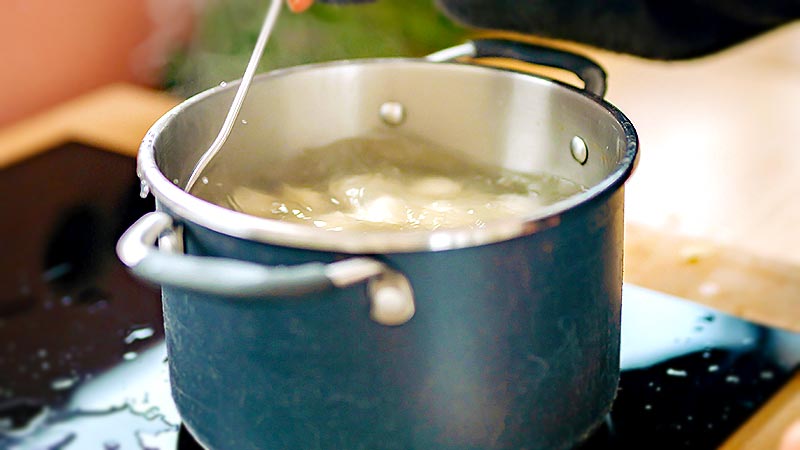 Aluminum core
Aluminum beats all other metals when it comes to cookware because they are a very good conductor of heat. But it might not be the toughest element out there. This is why they are often used as a core element to stainless steel pans. The combination of stainless steel and aluminum is quite the winner in the case of heat distribution, heat retention, and durability.
The Ratio of The Metals
In order to maintain the appearance and thus the quality of the pans, you need to ensure that they are coated with such elements that will prevent the corrosion of the main metals used in the body. 18/10 is the magic ratio. 18 percent chromium to 10 percent nickel is the ideal combination to make pots and pans enduring. The higher these ratios, the better.
Handles
Many people overlook the handles, but these are actually one of the factors that will determine how long you use these pans for. The handle of the pans should be made with material that cannot conduct heat. Stainless steel with a cool touch to them is crucial for holding and carrying the pans without looking for kitchen muffs every time. The firm handles also give you more flexibility in movement in the kitchen.
Quantity and Quality of The Pans
If you buy a whole set of cookware and then realize that you still don't have all the pans you need, then it would incur a loss for you. This is why you have to check everything before you confirm the purchase. Additionally, the lids should sit firmly on the pans, and the bottom of the pans should be sturdy and flat on the stove.
Non-Toxic Coating
Most nonstick coating is done with Teflon. This is usually safe, but at temperatures above 55 degree-Fahrenheit, the coating will start to melt away and mix with the food. To avoid this, you have to look for pans that are free of toxic substances like PTFE. Otherwise, the toxicity will mix with food and cause the food to become toxic as well.
What is the Best Type of Cookware to Use on Electrictric Stove
Unlike induction cooktops, you can use almost all kinds of cooking utensils on the electric stove. Here, we will mention only three of the best kinds for preparing meals on the electric stove.
Stainless Steel
Let's start with the absolute best kind, stainless steel cookware. For an electric stove, the ideal type of cooking utensil is one that is manufactured from a substance that does not scrape the outer surface and provides a big, flat base for a wider cooking top. Based on that, stainless steel is the perfect material for an electric stove, because it has sufficient mass to stay secure. It also does not scrape the outer layer.
Basically, if you choose to go with a stainless steel cookware set, you have nothing to worry about. This traditional metal kitchen equipment is robust, strong, and provides just enough strength to keep it steady, but not so much that it ruins the fragile layer of the glass.
Nonstick
Nonstick cookware is coated with a special material named polytetrafluoroethylene, which is more widely recognized as Teflon. This substance makes the cooking utensils easy to use and wash. Different kinds of pans such as frypans and saucepans are typically manufactured with this Teflon layer.
Actually, nonstick utensils are great for glass stovetops, and you will find a lot of these in our recommendations. This cookware can be used to make great food without affecting the cooking surface in any way. You just have to use a small amount of butter or oil to make a delicious and healthy meal.
Hard-Anodized Aluminum
Another great material for kitchenware when it comes to cooking on an electric stove is hard anodized aluminum. Due to their excellent heat-conducting characteristics, aluminum & copper are two common and viable materials. But with these materials, there is a high chance you will have residues after use. So, they are not exactly perfect.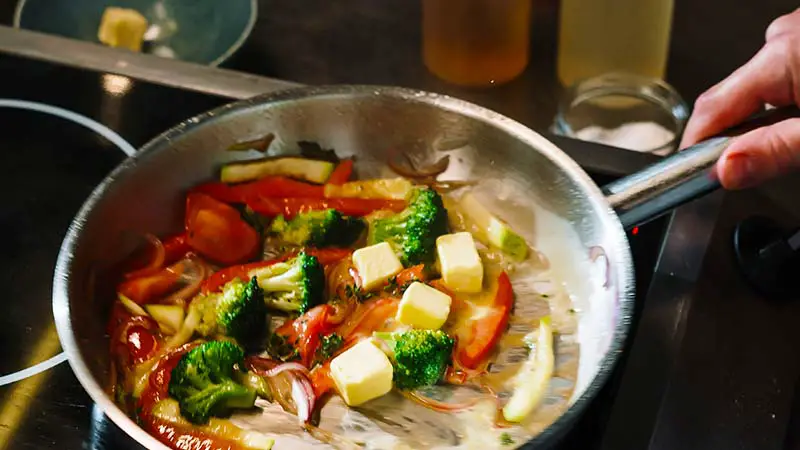 This is where hard-anodized aluminum comes in. The blend of metals in this material makes excellent cooking utensils that are delicate on all kinds of stoves. With this cookware, you will be able to cook freely on glass tops without any worries. Not only will your glass stove remain safe, so will all of your pots and pans.
Is Glass Top Stove and Induction Cooktop the Same for Using Cookware?
Although glass stoves and induction cooktops are quite similar in terms of looks, they are actually quite different when it comes to the mechanism.
The primary difference between the two is how food is prepared. With the glass top stove, initially, electricity is required to heat up the burner, which then heats up the cooking utensil placed on top of it. While the first kind of stove requires two steps to cook the food, the other only needs one. Induction cooktops require electromagnetic energy, with which they heat the magnetic cooking utensils instantly.
Due to the different cooking methods, different cooking utensils are required for the two cooktops. For instance, most varieties of cookware can be used with glass stoves. But you need magnetic cooking utensils for induction stoves to function effectively.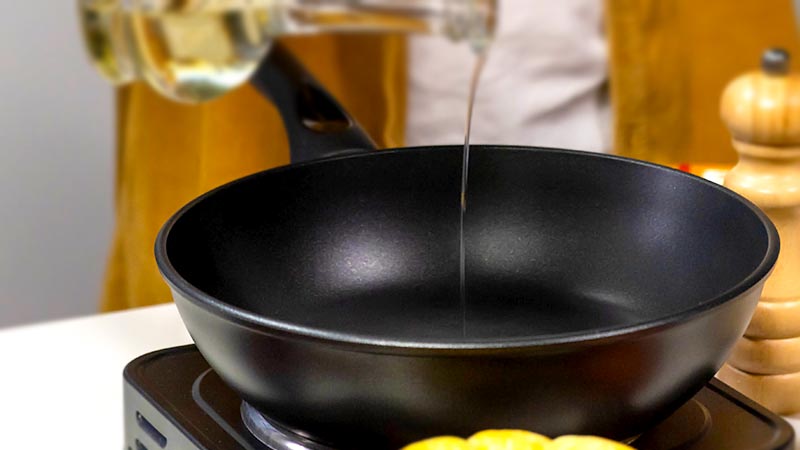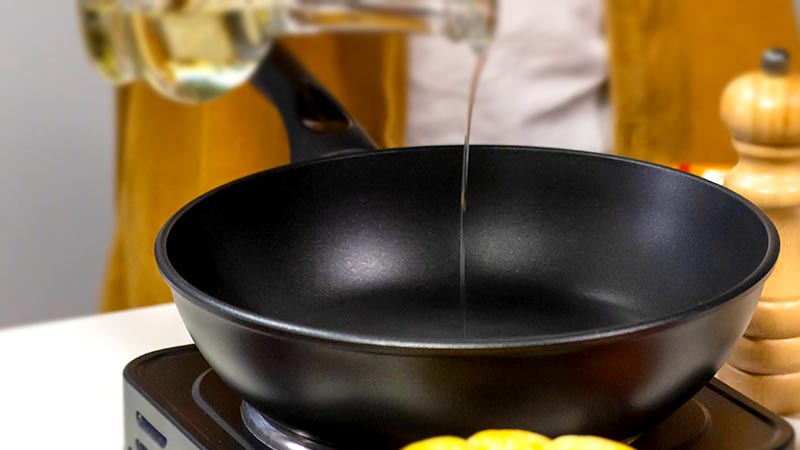 Basically, if the magnet is strongly attracted to your cooking utensils, it will comply with induction stoves. And if it doesn't, you've got to get those with a magnetic attraction. The necessity for different types of cookware is mainly due to the differences in the cooking mechanism, as one uses electrical energy and the other uses electromagnetic energy.
Frequently Asked Questions
Is it safe to cook on a glass cooktop that has a crack in it?
Not advisable. You might get electrocuted. Replace the glass before commencing the cooking experiments. 
What kind of cookware is best for glass top stoves?
The best cookware is stainless steel pans. They are durable, elegant, and affordable. Also, they do not react and give off smelly fumes while you cook.
Can I use cast iron cookware on a glass top stove?
It will be quite risky to do so. The dragging will get scratches on the pans and might also cause the stove to break if not handled with great care.
Will the nonstick coating get burnt if I preheat the pans?
If without oil, it might. To play it safe, put some oil into it, then start up the stove, keeping the flame medium to low. This will prep the surface for the food molecules to roll on and make sure they never stick to the surface.
How do I remove food that does get stuck on the surface?
Take some white vinegar and baking soda. Sprinkle and mix them into the pans, keep for some time and then rub it clean with a neat cloth. This will remove the residual food and keep your pans fresh as new.
What pots should not be used on a ceramic cooktop?
On a ceramic cooktop, one should never use aluminum or copper pots–steel is best. Always remember to turn your pot handles in so that they are protected against thermal shock and burns!
Why can't you use cast iron on a glass top stove?
When a cast iron pot rests on top of the glass stovetop, it can easily scratch and damage the surface. The main reason for this is because these pots are so heavy. Cast-iron weighs much more than stainless steel or aluminium pans. When you add food to your pan while cooking, there's even more weight being put onto that fragile glass cooktop!
Final Words
If you do not have a whole set of nice, durable cookware set at home, then you are missing out on the fun. We hope, by reading this article, you were able to find the best pots and pans for electric stove. So, without any further ado, go and get it!