16 Kitchen Appliances Must Have to Decorate Your Kitchen Like a Pro!
If you want to make life easier and save some more time to spend with the family, there is no alternative to smart and modern kitchen appliances.
Be it large or small, some kitchen appliances add value to your cooking experience. No matter where you live, there are always some must have kitchen appliances that you should buy for your kitchen.
Here we have come with 16 must have kitchen items list to help you if you are going to have the highest utility from your kitchen.
Note: This post may contain affiliate links, which means if you buy from my link I might make a small commission. This does not affect the price you pay. See the full affiliate disclosure

 

here.
1. Rice Cooker
Having a rice cooker is essential if you need to cook rice frequently. In case, you burn your rice regularly while you cook in a stove, a rice cooker can be a smart solution to the problem. You will have no overcooked or undercooked rice with a rice cooker in your kitchen.
2. Water Purifier
If your water is contaminated, that can lead your family to death. Pure water saves lives. You should have a water purifier in your kitchen so that your family can have a constant supply of fresh and pure water.
You can install the purifier under the sink. However, a water purifier with a reverse osmosis system works best by saving you from many toxic metals alongside harmful chloride. 
3. Stand Mixers
Though our past generations have used hand mixers, stand mixers are designed for this age. With stand mixers in your kitchen, you can blend or mix more items, in a more precise way.
With the powerful motor and bowls of different sizes, your work is accurately done even without your presence with the facilities it provides. 
4. Electric Kettle
You do not need to be surprised seeing Electric Kettle within one of the must have kitchen items list.
If you feel lazy in the morning to have hot water from the stove to make tea, just pour some water and press a button. You will get either lukewarm or fully hot water instantly.
5. Coffee Maker
If you are a coffee lover, you must have a coffee maker in your kitchen. It is lightweight and very easy to use. You need to pour water and coffee grounds setting a timer. And it is done.
6. Fryers
If you are a lover of French fry, a deep fryer is a great choice for easy cooking. On the other hand, if you want meals with low oil, you can buy an air fryer. Having crispy and quick food was never easier before the invention of the fryers. 
7. Dishwasher
It is undoubtedly true that none would like the bad smell of the uncleaned plates and pots. Coming with special dish rack and sprayer, you can find your plates spotless after few minutes of with the help of a dishwasher. Many dishwashers also feature drying so that you can easily get your utensils dry.
8. Food Processor
If you have a food processor with you, you can stay relaxed thinking that vegetable slicing, cream whipping or cheese shredding will turn into easier tasks.
It is reliable and versatile and saves you hours to let you do other things. As a food processor comes with switchable disks, you will always have your work done with the proper utilization of tools. 
9. Microwave Oven
To serve hot food 24/7 to your family, a microwave oven will help you. Do not ever think that you need a microwave oven to heat your food before serving, you can also make delicious dishes if you have a microwave oven in your kitchen.
10. Refrigerator
A refrigerator does the exact opposite of a microwave oven. It stores food in a cold temperature set by you. It preserves your food fresh for many days.
You do not need to go for your groceries every day if you have got a refrigerator. However, you can also use a refrigerator to make ice and ice creams as well.
11. Blender
Is there any kitchen without a blender nowadays? It must be rare to find one. A blender helps you in making refreshing juices along with blending different foods for cooking. 
12. Toaster
Are you always in a hurry in the morning to join your work and get your boys ready to school fast? A toaster can help you in your breakfast by letting you turn your bread slices into toast.
If you have a toaster that features four-slice options, you can feed your whole family with the output your toaster provides. 
13. Countertop Ice Maker
Though many of you may find an ice maker to be luxurious, it is one of the most essential items to keep in your kitchen. You will find many foods that require ice.
As an ice maker doesn't take much space, you do not need to worry about its placement. With the automatic timer, ice size selection, ice scoop, and many more features, an ice maker is just a necessity of the modern kitchens.
14. Water Dispenser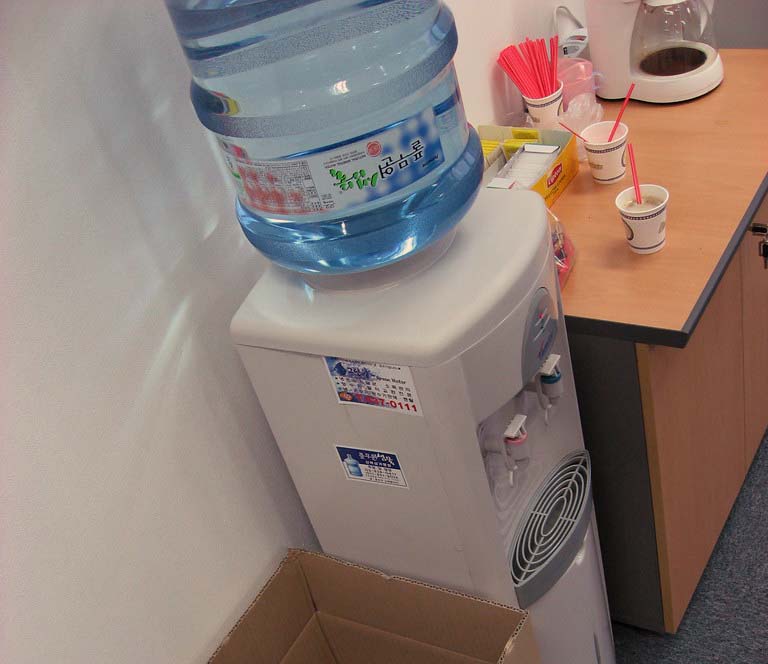 If you are looking for an eco-friendly alternative to plastic bottles, having a water dispenser is just near the ideal one. Water Dispensers are being increasingly used in homes and offices.
They are popular because they are easy to use and maintain. On top of that, you can have both hot and cold water from a dispenser as per your needs. 
15. Sandwich Maker
A sandwich maker has become one of the kitchen cookware essentials. To help you make a sandwich quickly and easily, you will find it great.
No matter what kind of sandwiches you love to eat, a sandwich maker will serve them for you and will make sure that you no longer miss any meal for you in spite of having a busy schedule.
16. Steam Oven
All of us are accustomed to cooking food by the fire. What if you can cook with steam? Yes, to get more nutrition from the foods that you cook, you can make use of a steam oven.
With a steam oven, you can have all the minerals and vitamins preserved in the food after cooking. Even the flavor does not change. So, what are you waiting for?
Final Words
The time you spend in the kitchen is valuable. If you know how to use certain kitchen appliances, you can save more time.
We believe that, if you have these 16 must have kitchen appliances mentioned above in your home, you can save your time and energy to put them in more fruitful work.