How To Clean A Dirty Toaster Oven: A Step-By-Step Guide
Toaster ovens are one of the most used small appliances in the kitchen. They allow you to cook a wide range of foods, from meat and vegetables to desserts. But like any other appliance, they get dirty over time if they're not cared for properly. Luckily, cleaning a toaster oven is easier than you might think.
A toaster oven is used for toasting, baking, warming, and broiling food. But over time, the toaster oven can become dirty with spills and splatters. You can use a wet sponge or cloth if you do not have any cleaner. You should avoid using steel wool, metallic scouring pads, and abrasive cleaners.
These can scratch the glass and make it harder to clean in the future. After cleaning your toaster oven, you need to dry it completely before using it again. A toaster oven is an extremely valuable asset for any kitchen. But it can be a pain to keep clean. Here are some tips on how to keep your toaster oven clean and performing like new.
Note: This post may contain affiliate links, which means if you buy from my link I might make a small commission. This does not affect the price you pay. See the full affiliate disclosure

here.
6 Ways To Clean A Toaster Oven
How to clean a dirty toaster oven?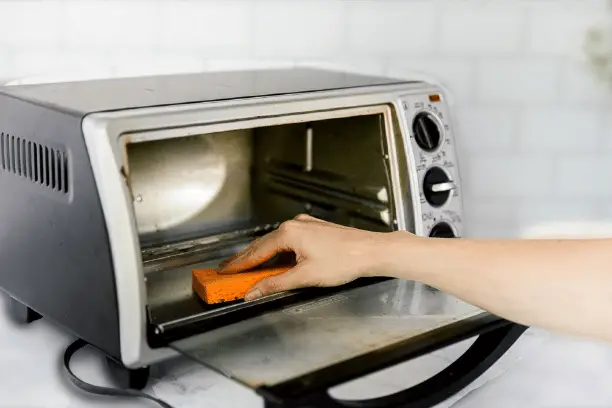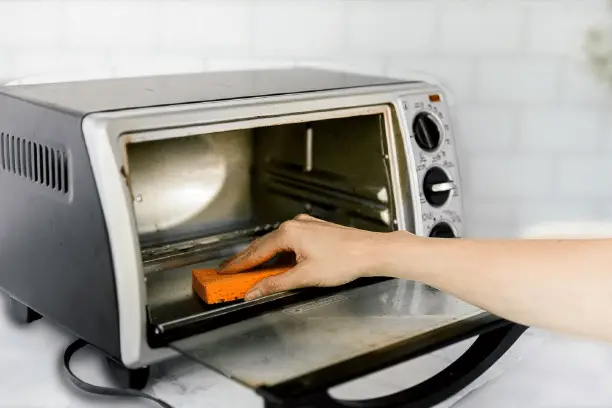 It is quite a challenge to clean a dirty toaster oven. You have to let the machine cool down completely before cleaning it. In the meantime, you can start removing excess crumbs from the heating elements by using a screwdriver.
The next step is scraping off any burnt material on the bottom of your toaster oven with an old toothbrush or other cleaning tools that work well for this purpose. If there are some hard-to-reach places in your kitchen appliance, use cotton swabs and vinegar to remove them.
How to clean a toaster oven with vinegar?
When cleaning a toaster oven, the first thing you should do is unplug it. This will prevent an electrical shock when cleaning with vinegar. Vinegar is a great cleaner for all types of surfaces. It deep cleans without leaving behind any unpleasant residue or smell.
Cleaning the outside
First, wipe down the exterior with vinegar and water to remove any grime that may have built upon it over time. For stubborn spots, scrub with a soft-bristled brush dipped in vinegar. Wipe dry with a clean cloth or paper towels.
Cleaning the Inside
To clean the inside Mix a few drops of mild dish soap with warm water in a bowl. Dampen a sponge with the solution and wipe down the interior of the toaster oven.
How to clean a toaster oven with a wet cloth or dry cloth?
Everyone has a toaster oven. And, more often than not, the appliance is covered in crumbs and food splatters. Fortunately, cleaning a toaster oven is easy. Just follow these simple steps:
Take out the racks from the device and clean those first with a damp cloth.
Use a wet cloth or sponge with soapy water to wipe down the outside of your toaster oven
This will help you avoid using harsh chemicals on your appliance – which could damage it! – while also keeping it looking great for years to come.
How to remove smoke smell from toaster oven?
1. Crack the cracked toaster oven to find the burnt smell
2. Wash with dish detergent or use vinegar, until all residue is gone
3. Wash in a mild soap
4. Rinse in mild water
5. Remove the heat vent carefully and then let it dry for at least 5 days, then put it in the freezer for a few hours
6. Wipe it with a soft sponge, to remove all the moisture
7. Check the surface to see if you need to buy a new toaster oven
8. It's always better to avoid buying any new toaster oven. Refrigerate to dry
9. If not possible to defrost, and still smell some smoke, clean it with some baking soda and scrub well with a toothbrush or lint brush
10. Have a deep clean of your oven next time you plan to use it.
Must Read: 5 (Best-Selling) Toaster Ovens Under $50
Clean the crumb tray by removing it from the oven and scrubbing it clean?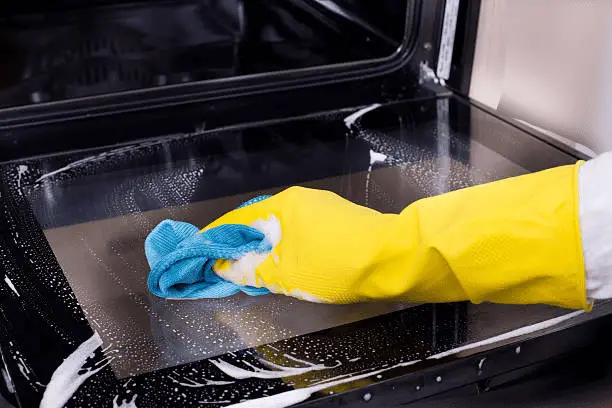 Remove the crumb trays by wrapping them in a kitchen towel and squeezing out the air bubbles. To store, place them in a warm, dry place.
Deodorize the crumb tray by filling it with baking soda, turning it on its side, and leaving it overnight. The baking soda will remove any nasty smells and the baking soda will help to wipe the crumb tray clean.
Remove stuck-on food from the crumb tray by scrubbing it clean and then using a paper towel to remove any crumbs or any stuck-on food.
Do not use liquid dishwasher soap to clean the crumb tray as it is acidic and will rust.
Use a gentle, washing-up liquid-type cleanser to clean the crumb tray.
Best way to clean a toaster oven.
Toaster ovens are a great invention. They save counter space and help you cook things quickly by toasting, baking, broiling, and even grilling. However, after a while, they can get dirty with all sorts of stuff in there from cooking food to burning crumbs, etc.
You'd need a vacuum to suck out the crumbs or anything else that might be stuck inside it. But before you do that make sure you unplug the appliance first! And don't forget to wear gloves if your hands aren't steady enough when dealing with sharp objects like this!
You may also like this!
Conclusion
If you're looking for a simple way to clean your toaster oven, this article is for you. We've shared all of the best methods with you here today so that your oven will be sparkling in no time. Don't forget to share this article on social media and follow our blog for more great cleaning tips!
I hope you will like today's topic (How To Clean Toaster Oven). If you like share this article with your friends, families, and needy ones. And write a comment about which topic you want next. Thanks For Reading…
Must-Visit To Our Website:- www.verybestkitchen.com
Must Join To Our Facebook Page- Very Best Kitchen
Thank You, Everyone, & (Happy Shopping)🛒